---
Product Details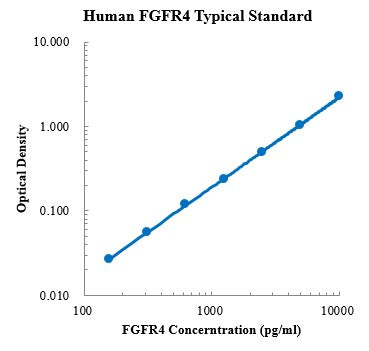 Brand
MultiSciences
CatNum
70-EK1237
Product Name
Human FGFR4/CD334 ELISA Kit
Customs Name
Human FGFR4/CD334 ELISA Kit
Application
ELISA
Reactivity
Human
Assay Type
Sandwich ELISA
Suitable Sample Type
serum, plasma, cell culture supernates
Format
96-well strip plate
Storage
4℃ (unopened) standard stored at -20℃, others stored at 4℃ (opened)
Shipping Condition
4℃
Sample Volume
20 μl
Sensitivity
12.76 pg/ml
Standard Curve Range
156.25 - 10000 pg/ml
Spike Recovery Range
70 % - 96 %
Mean Spike Recovery
0.85
CV of Intra plate
1.8 % - 3.5 %
CV of Inter plate
1.9 % - 5.8 %
Components
96-well polystyrene microplate coated with a monoclonal antibody against FGFR4
Human FGFR4 Standard, lyophilized
FGFR4 Detect Antibody
Standard Diluent
Assay Buffer (10×)
Substrate (TMB)
Stop Solution
Washing Buffer (20×)
Plate Covers
Describtion
This assay employs the quantitative sandwich enzyme immunoassay technique for the quantitative detection of human FGFR4/CD334. The Human FGFR4/CD334 ELISA is for research use only. Not for diagnostic or therapeutic procedures.
Fibroblast growth factor receptor 4 (FGFR4), also known as CD334, is a member of the fibroblast growth factor receptor family, where amino acid sequence is highly conserved between members and throughout evolution. FGFR family members differ from one another in their ligand affinities and tissue distribution. A full-length representative protein would consist of an extracellular region, composed of three immunoglobulin-like domains, a single hydrophobic membrane-spanning segment and a cytoplasmic tyrosine kinase domain. The extracellular portion of the protein interacts with fibroblast growth factors, setting in motion a cascade of downstream signals, ultimately influencing mitogenesis and differentiation. The genomic organization of this gene, compared to members 1-3, encompasses 18 exons rather than 19 or 20. Although alternative splicing has been observed, there is no evidence that the C-terminal half of the IgIII domain of this protein varies between three alternate forms, as indicated for members 1-3. This particular family member preferentially binds acidic fibroblast growth factor and, although its specific function is unknown, it is overexpressed in gynecological tumor samples, suggesting a role in breast and ovarian tumorigenesis.