---
Product Details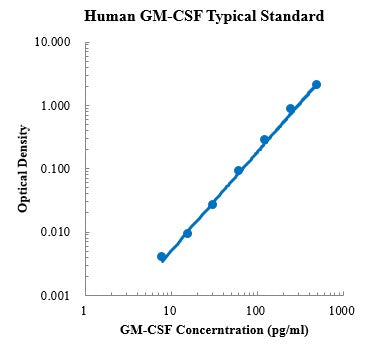 CatNum

70-EK163

Product Name

Human GM-CSF ELISA Kit

Customs Name

Human GM-CSF ELISA Kit

Application

ELISA

Reactivity

Human

Assay Type

Sandwich ELISA

Suitable Sample Type

serum, plasma, cell culture supernates

Format

96-well strip plate

Storage

4℃ (unopened)standard stored at -20℃, others stored at 4℃ (opened)

Sample Volume

20 μl

Sensitivity

4.76 pg/ml

Standard Curve Range

7.81-500 pg/ml

Spike Recovery Range

97%-110% 

Mean Spike Recovery

104%

CV of Intra plate

2.5% - 2.9%

CV of Inter plate

3.7% - 4.9%

Components

96-well polystyrene microplate coated with a monoclonal antibody against GM-CSF

Human GM-CSF Standard, lyophilized

GM-CSF Detect Antibody

Standard Diluent

Streptavidin-HRP

Assay Buffer (10×)

Substrate (TMB)

Stop Solution

washing Buffer (20×)

Plate Covers

Describtion

This assay employs the quantitative sandwich enzyme immunoassay technique for the quantitative detection of human GM-CSF. The Human GM-CSF ELISA is for research use only. Not for diagnostic or therapeutic procedures.

Granulocyte-macrophage colony stimulating factor (GM-CSF) is a cytokine that functions as a white blood cell growth factor. GM-CSF stimulates stem cells to produce granulocytes (neutrophils, eosinophils, and basophils) and monocytes. cDNAs for both mouse and human GM-CSF encode precursor proteins with a 17 amino acid (aa) signal peptide that is cleaved toform mature proteins with 124 and 127 aa residues, respectively. GM-CSF signals via signal transducer and activator of transcription, STAT5. In macrophages, it has also been shown to signal via STAT3. Although GM-CSF was initially characterized by its ability to stimulate neutrophil, monocyte/macrophage, and eosinophil colony formation, it has since been shown that it has additional activities on hematopoietic, as well as non-hematopoietic lineage cells. GM-CSF is manufactured using recombinant DNA technology and is marketed as a protein therapeutic called molgramostim or, when the protein is expressed in yeast cells, sargramostim. It is used as a medication to stimulate the production of white blood cells and thus prevent neutropenia following chemotherapy. GM-CSF has also recently been evaluated in clinical trials for its potential as a vaccine adjuvant in HIV-infected patients. The preliminary results have been promising, but GM-CSF is not presently FDA-approved for this purpose.

Increased levels of GM-CSF have been reported in the serum of some cancer patients, including patients with lung cancer and patients with acute myelogenous leukemia. GM-CSF has also been reported to be increased in the peripheral blood of bronchial asthma patients and in extracts of psoriatic scales.