---
Product Details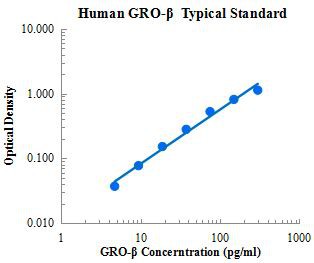 Factory Name
MultiSciences
Product Code
70-EK1264
CatNum
EK1264
Product Name
Human GRO-β ELISA Kit
Type
ELISA Kit
Application
ELISA
Reactivity
Human
SDS
SDS - EK1264
Assay Type
Sandwich ELISA
Suitable Sample Type
serum, plasma, cell culture supernates
Format
96-well strip plate
Storage
4℃ (unopened)standard stored at -20℃, others stored at 4℃ (opened)
Shipping Condition
4℃
Sample Volume
10 μl
Sensitivity
0.53 pg/ml
Standard Curve Range
4.688 - 300 pg/ml
Spike Recovery Range
85 % - 110 %
Mean Spike Recovery
99%
CV of Intra plate
4.8 % - 5.0 %
CV of Inter plate
3.8 % - 4.7 %
Components
96-well polystyrene microplate coated with a monoclonal antibody against GRO-β
Human GRO-β Standard, lyophilized
GRO-β Detect Antibody
Streptavidin-HRP
Assay Buffer (10×)
Substrate (TMB)
Stop Solution
Washing Buffer (20×)
Plate Covers
Describtion
This assay employs the quantitative sandwich enzyme immunoassay technique for the quantitative detection of human GRO-β. The Human GRO-β ELISA is for research use only. Not for diagnostic or therapeutic procedures.
The Growth-regulated oncogene beta (GRO-β), also known as chemokine (C-X-C motif) ligand 2 (CXCL2) is a member of the CXC chemokine superfamily. The GRO-β, also called MIP-2 in mouse and CINC-3 in rat. Human GRO-β is 107 amino acids (aa) in length with a predicted molecular weight of 11 kDa. And GRO-β is produced by a variety of cell types including monocytes and macrophages at sites of inflammation and is chemotactic for granulocytes, including neutrophils.
The GRO-β plays an important role in inflammation and wound healing process. As extensive research continued, researchers realized that the GRO gene was one of oncogenes. And its expression product, GRO-β, was also found to be very important in angiogenesis, tumorigeness, tastasis, and interaction between tumor and immune cells.