---
Product Details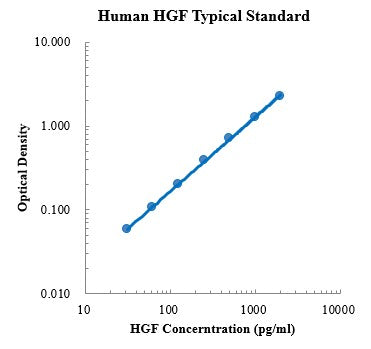 Brand
MultiSciences
CatNum
70-EK1H01
Product Name
Human HGF ELISA Kit
Customs Name
Human HGF ELISA Kit
Application
ELISA
Reactivity
Human
Assay Type
Sandwich ELISA
Suitable Sample Type
serum, plasma, cell culture supernates
Format
96-well strip plate
Storage
4℃ (unopened) standard stored at -20℃, others stored at 4℃ (opened)
Shipping Condition
4℃
Sample Volume
20 μl
Sensitivity
1.99 pg/ml
Standard Curve Range
31.25 - 2000 pg/ml
Spike Recovery Range
85 % - 108 %
Mean Spike Recovery
0.95
CV of Intra plate
4.3 % - 6.5 %
CV of Inter plate
3.1 % - 8.3 %
Components
96-well polystyrene microplate coated with a monoclonal antibody against HGF
Human HGF Standard, lyophilized
HGF Detect Antibody
Standard Diluent
Streptavidin-HRP
Assay Buffer (10×)
Substrate (TMB)
Stop Solution
Washing Buffer (20×)
Plate Covers
Describtion
This assay employs the quantitative sandwich enzyme immunoassay technique for the quantitative detection of human HGF. The Human HGF ELISA is for research use only. Not for diagnostic or therapeutic procedures.
Hepatocyte growth factor/scatter factor (HGF/SF) is a paracrine cellular growth, motility and morphogenic factor. HGF is synthesized as a single chain, 728 aa residue pre-pro-peptide with a 29 aa signalsequence and a 25 aa pro-sequence. HGF regulates cell growth, cell motility, and morphogenesis by activating a tyrosine kinase signaling cascade after binding to the proto- oncogenic c-Met receptor. Hepatocyte growth factor is secreted by mesenchymal cells and acts as a multi-functional cytokine on cells of mainly epithelial origin. Its ability to stimulate mitogenesis, cell motility, and matrix invasion gives it a central role in angiogenesis, tumorogenesis, and tissue regeneration.
Human HGF plasmid DNA therapy of cardiomyocytes is being examined as a potential treatment for coronary artery disease as well as treatment for the damage that occurs to the heart after myocardial infarction. HGF may further play a role as an indicator for prognosis of chronicity for Chikungunya virus induced arthralgia. High HGF levels correlate with high rates of recovery.