---
Product Details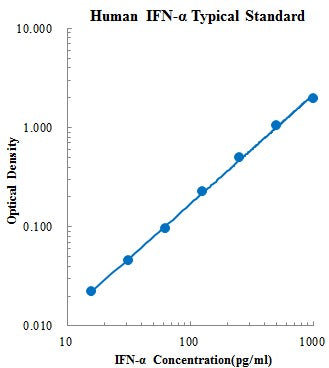 Brand
MultiSciences
CatNum
70-EK199
Product Name
Human IFN-α ELISA Kit
Customs Name
Human IFN-α ELISA Kit
Application
ELISA
Reactivity
Human
Assay Type
Sandwich ELISA
Suitable Sample Type
serum, plasma, cell culture supernates
Format
96-well strip plate
Storage
4℃ (unopened) standard stored at -20℃, others stored at 4℃ (opened)
Shipping Condition
4℃
Sample Volume
50 μl
Sensitivity
1.04 pg/ml
Standard Curve Range
15.63 - 1000 pg/ml
Spike Recovery Range
97 % - 118 %
Mean Spike Recovery
1.06
CV of Intra plate
4.5 % - 5.3 %
CV of Inter plate
3.9 % - 6.5 %
Components
96-well polystyrene microplate coated with a monoclonal antibody against IFN-α
Human IFN-α Standard, lyophilized
IFN-α Detect Antibody
Standard Diluent
Assay Buffer (10×)
Substrate (TMB)
Stop Solution
Washing Buffer (20×)
Plate Covers
Describtion
This assay employs the quantitative sandwich enzyme immunoassay technique for the quantitative detection of human IFN-α. The Human IFN-α ELISA is for research use only. Not for diagnostic or therapeutic procedures.
Interferons (IFNs) are a group of signaling proteins made and released by host cells in response to the presence of pathogens, such as viruses, bacteria, parasites, or tumor cells. In a typical scenario, a virus-infected cell will release interferons causing nearby cells to heighten their anti-viral defenses. Based on the type of receptor through which they signal, human interferons have been classified into three major types: interferon type I, including IFN-α, IFN-β, IFN-ε, IFN-κ and IFN-ω, interferon type II (IFN-γ in humans) and interferon type III: Signal through a receptor complex consisting of IL10R2 and IFNLR1. The IFN-α proteins are produced by leukocytes. They are mainly involved in innate immune response against viral infection. Studies suggest that by forcing IFN-α expression in tumor-infiltrating macrophages, it is possible to elicit a more effective dendritic cell activation and immune effector cell cytotoxicity. IFN-α acts as a pyrogenic factor by altering the activity of thermosensitive neurons in the hypothalamus thus causing fever. A similar mechanism is used by IFN-α to reduce pain; IFN-α interacts with the μ-opioid receptor to act as an analgesic.