---
Product Details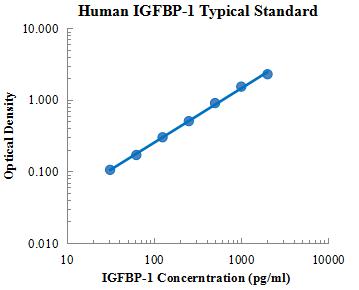 CatNum
EK1255
Product Name
Human IGFBP-1 ELISA Kit
Customs Name
Human IGFBP-1 ELISA Kit
Application
ELISA
Reactivity
Human
SDS
SDS - EK1255
Assay Type
Sandwich ELISA
Suitable Sample Type
serum, plasma, cell culture supernates
Format
96-well strip plate
Storage
4℃ (unopened)standard stored at -20℃, others stored at 4℃ (opened)
Shipping Condition
4℃
Sample Volume
10 μl
Sensitivity
0.93 pg/ml
Standard Curve Range
31.25 - 2000 pg/ml
Spike Recovery Range
83% - 118%
Mean Spike Recovery
1.01
CV of Intra plate
4.8% - 5.2%
CV of Inter plate
3.0% - 5.0%
Components
96-well polystyrene microplate coated with a monoclonal antibody against IGFBP-1
Human IGFBP-1Standard, lyophilized
IGFBP-1 Detect Antibody
Standard Diluent
Assay Buffer (10×)
Substrate (TMB)
Stop Solution
Washing Buffer (20×)
Plate Covers
Describtion
This assay employs the quantitative sandwich enzyme immunoassay technique for the quantitative detection of human IGFBP-1. The Human IGFBP-1 ELISA is for research use only. Not for diagnostic or therapeutic procedures.
Insulin-like growth factor-binding protein 1 (IGFBP-1) also known as placental protein 12 (PP12) is a protein that in humans is encoded by the IGFBP1 gene. The protein binds both insulin-like growth factors (IGFs) I and II and circulates in the plasma. Binding of this protein prolongs the half-life of the IGFs and alters their interaction with cell surface receptors. IGFBPs modulate the biological activities of IGF proteins.Post-translational modifications of IGFBP, including glycosylation, phosphorylation and proteolysis, have been shown to modify the affinities of the binding proteins to IGF. High IGFBP-1 may be a marker of a catabolic state. Research shows that women with higher IGFBP-1 were more likely to have a low relative muscle mass. Higher IGFBP-1/IGF-1 serum ratio is significantly associated with poor prognosis in nasopharyngeal carcinoma(NPC) patients. Local IGFBP1 level was reported to affect the development of coronary artery plaque.