---
Product Details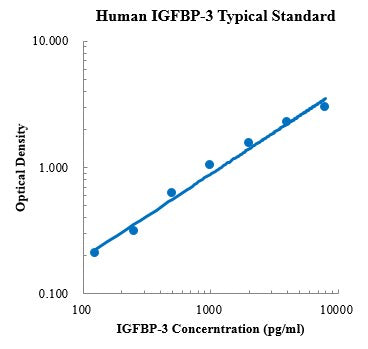 Cat Num

70-EK1168

Product Name

Human IGFBP-3 ELISA Kit

Customs Name

Human IGFBP-3 ELISA Kit

Application

ELISA

Reactivity

Human

Assay Type

Sandwich ELISA

Suitable Sample Type

serum, plasma, cell culture supernates

Format

96-well strip plate

Storage

4℃ (unopened)standard stored at -20℃, others stored at 4℃ (opened)

Shipping Condition

4℃

Sample Volume

20 μl

Sensitivity

2.16 pg/ml

Standard Curve Range

125 - 8000 pg/ml

Spike Recovery Range

90%-111%


Mean Spike Recovery

102%

CV of Intra plate

3.9 % - 5.1 %

CV of Inter plate

6.5 % - 7.2 %

Components

96-well polystyrene microplate coated with a monoclonal antibody against IGFBP-3
Human IGFBP-3 Standard, lyophilized
IGFBP-3 Detect Antibody
Streptavidin-HRP
Assay Buffer (10×)
Substrate (TMB)
Stop Solution
Washing Buffer (20×)
Plate Covers

Describtion

This assay employs the quantitative sandwich enzyme immunoassay technique for the quantitative detection of human IGFBP-3. The Human IGFBP-3 ELISA is for research use only. Not for diagnostic or therapeutic procedures.
Insulin-like growth factor binding protein 3 (IGFBP-3), is a protein that in humans is encoded by the IGFBP3 gene. IGFBP-3 is one of six IGF binding proteins (IGFBP-1 to IGFBP-6) that have highly conserved structures and bind IGF-1 and IGF-2 with high affinity. IGFBP-3 is the main IGF transport protein in the bloodstream. It interacts with cell-surface proteins, affecting cell signaling from outside the cell or after internalization, and also enters the cell nucleus where it binds to nuclear hormone receptors and other ligands.
Based on cell growth experiments, animal cancer models, and epidemiological studies, it appears that IGFBP-3 functions as a low-penetrance tumor suppressor gene. Dysregulation of IGFBP-3 has been implicated in many cancers. Serum levels of IGFBP-3 can be used to screen for growth hormone deficiency. Serum levels of IGFBP-3 are decreased in AIDS, uncontrolled diabetes mellitus, trauma, and severe burns.