---
Product Details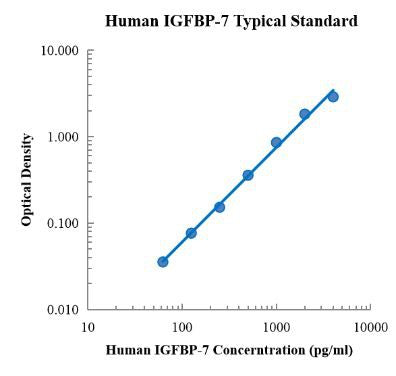 Factory Name
MultiSciences
Product Code
70-EK1287-96
CatNum
EK1287-96
Product Name
Human IGFBP-7 ELISA Kit
Customs Name
Human IGFBP-7 ELISA Kit
Product Spec
96T
SalePrice
3200
Type
ELISA Kit
Application
ELISA
Reactivity
Human
Modality
NoData
Assay Type
Sandwich ELISA
Suitable Sample Type
serum, plasma, cell culture supernates
Format
96-well strip plate
Storage
4℃ (unopened) standard stored at -20℃, others stored at 4℃ (opened)
Shipping Condition
4℃
Sensitivity
0.47pg/ml
Standard Curve Range
62.5-4000 pg/ml
Spike Recovery Range
85%-112%
Mean Spike Recovery
104%
CV of Intra plate
2.0 % - 3.2 %
CV of Inter plate
2.4 % - 3.2 %
Components

96-well polystyrene microplate (12 strips of 8 wells) coated with an antibody against human IGFBP-7

Human IGFBP-7 Standard, lyophilized

IGFBP-7 Detect Antibody 

                                                                                                                  Assay Buffer (10×)

Substrate

Stop Solution

Washing Buffer (20×)

Adhesive Films

PRINCIPLE OF THE ASSAY
Human IGFBP-7 ELISA Kit is based on the quantitative sandwich enzyme-linked immunosorbent assay technique to measure concentration of human IGFBP-7 in the samples. An antibody specific for human IGFBP-7 has been pre-coated onto a microplate. Standard, samples and HRP-linked detect antibody specific for IGFBP-7 are pipetted into the wells and IGFBP-7 present is bound by the immobilized antibody and detect antibody following incubation. After washing, substrate solution is added to the wells and color develops in proportion to the amount of IGFBP-7 bound in the initial step. The color development is stopped and the intensity of the color is measured.
Describtion

The superfamily of insulin-like growth factor (IGF) binding proteins include the six high-affinity IGF binding proteins (IGFBP) and at least four additional low-affinity binding proteins referred to as IGFBP related proteins (IGFBP-rP)。IGFBP7 is a low-affinity IGF binding protein,which plays an integral role in regulating insulin like growth factor (IGF) actions in a wide variety of cell types, including stimulation of prostacyclin production and cell adhesion. Some IGFBPs may also have intrinsic bioactivity that is independent of their ability to bind IGF proteins. IGFBP7 levels have been related to cancer development. Loss of expression of IGFBP7 has been associated with poor survival in multiple cancer types and with tumor chemotherapy resistance. IGFBP7 also has been identified as a cell cycle arrest biomarker for human acute kidney injury and serves as a prognostic indicator for early stage acute kidney injury development.