---
Product Details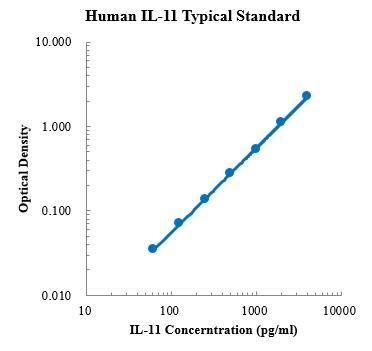 Brand
MultiSciences
CatNum
70-EK111
Product Name
Human IL-11 ELISA Kit
Specification 
96 T
Application
ELISA
Reactivity
Human
Assay Type
Sandwich ELISA
Suitable Sample Type
serum, plasma, cell culture supernates
Format
96-well strip plate
Storage
4℃ (unopened)standard stored at -20℃, others stored at 4℃ (opened)
Shipping Condition
4℃
Sample Volume
20 μl
Sensitivity
5.01 pg/ml
Standard Curve Range
62.50 - 4000 pg/ml
Spike Recovery Range
84 % -118 %
Mean Spike Recovery
0.99
CV of Intra plate
5.6 % - 8.3 %
CV of Inter plate
4.4 % - 7.1 %
Components

96-well polystyrene microplate coated with a monoclonal antibody against IL-11

Human IL-11 Standard, lyophilized

IL-11 Detect Antibody

Standard Diluent

Streptavidin-HRP

Assay Buffer (10×)

Substrate (TMB)

Stop Solution

washing Buffer (20×)

Plate Covers

Describtion

This assay employs the quantitative sandwich enzyme immunoassay technique for the quantitative detection of human IL-11. The Human IL-11 ELISA is for research use only. Not for diagnostic or therapeutic procedures.

Interleukin 11 (IL-11) is a multifunctional cytokine first isolated in 1990 from bone marrow-derived stromal cells. It is a member of the IL-6-type cytokine family, distinguished based on their use of the common co-receptor gp130. IL-11 is a key regulator of multiple events in hematopoiesis, most notably the stimulation of megakaryocyte maturation. IL-11 has been demonstrated to improve platelet recovery after chemotherapy-induced thrombocytopenia, induce acute phase proteins, modulate antigen-antibody responses, participate in the regulation of bone cell proliferation and differentiation. IL-11 causes bone-resorption. It stimulates the growth of certain lymphocytes and, in the murine model, stimulates an increase in the cortical thickness and strength of long bones. As a signaling molecule, IL-11 has a variety of functions include placentation and to some extent of decidualization. IL-11 has been expressed to have a role during implantation of the blastocyst in the endometrium of the uterus. IL-11 is manufactured using recombinant DNA technology and is marketed as a protein therapeutic called oprelvekin, for the prevention of severe thrombocytopenia in cancer patients.