---
Product Details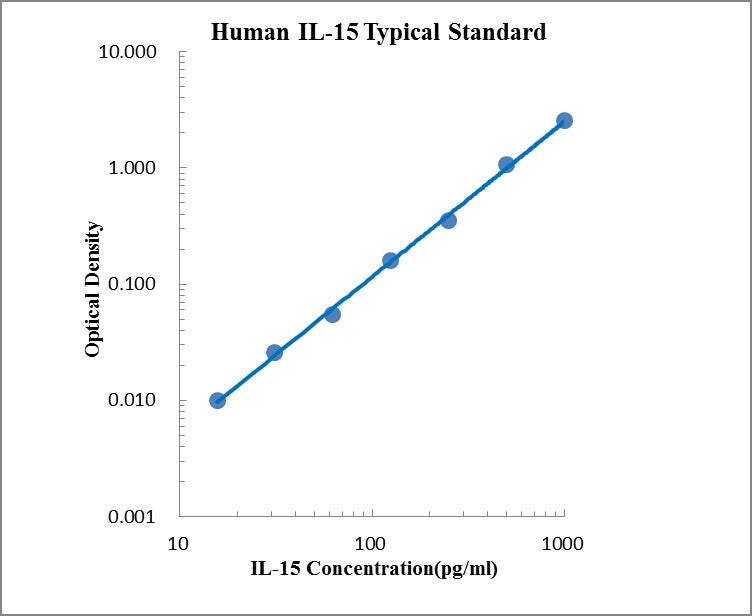 Brand

MultiSciences

CatNum

70-EK115

Product Name

Human IL-15 ELISA Kit

Customs Name

Human IL-15 ELISA Kit

Application

ELISA

Reactivity

Human

Assay Type

Sandwich ELISA

Suitable Sample Type

serum, plasma, cell culture supernates

Format

96-well strip plate

Storage

4℃ (unopened) standard stored at -20℃, others stored at 4℃ (opened)

Shipping Condition

4℃

Sample Volume

50 μl

Sensitivity

3.78 pg/ml

Standard Curve Range

15.63 - 1000 pg/ml

Spike Recovery Range

87 % - 111 %

Mean Spike Recovery

0.97

CV of Intra plate

1.9 % - 2.1 %

CV of Inter plate

3.2 % - 5.0 %

Components

96-well polystyrene microplate coated with a monoclonal antibody against IL-15

Human IL-15 Standard, lyophilized

IL-15 Detect Antibody

Standard Diluent

Streptavidin-HRP

Assay Buffer (10×)

Substrate (TMB)

Stop Solution

washing Buffer (20×)

Plate Covers

Describtion

This assay employs the quantitative sandwich enzyme immunoassay technique for the quantitative detection of human IL-15. The Human IL-15 ELISA is for research use only. Not for diagnostic or therapeutic procedures.

Interleukin 15 (IL-15) cDNA clones from all three species encode a 162 amino acid (aa) residue precursor protein that contains a 48 aa leader sequence and a 114 aa mature IL-15 subunit. IL-15 is a cytokine with structural similarity to IL-2. Like IL-2, IL-15 binds to and signals through a complex composed of IL-2/IL-15 receptor beta chain (CD122) and the common gamma chain (gamma-C, CD132). IL-15 is secreted by mononuclear phagocytes (and some other cells) following infection by virus(es). This cytokine induces cell proliferation of natural killer cells; cells of the innate immune system whose principal role is to kill virally infected cells. Survival signals that maintain memory T cells in the absence of antigen are provided by IL-15. This cytokine is also implicated in NK cell development. In rodent lymphocytes, IL-15 prevents apoptosis by inducing an apoptosis inhibitor, BCL2L1/BCL-x(L). In humans with celiac disease IL-15 similarly suppresses apoptosis in T-lymphocytes by inducing Bcl-2 and/or Bcl-xL.

There have been recent studies suggesting that suppression of IL-15 may be a potential treatment for celiac disease and even presents the possibility of preventing its development. IL-15 has been shown to enhance the anti-tumor immunity of CD8+ T cells in pre-clinical models.