---
Product Details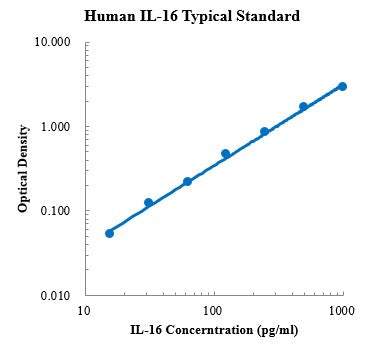 Brand

MultiSciences

Cat Num

70-EK116

Product Name

Human IL-16 ELISA Kit

Customs Name

Human IL-16 ELISA Kit

Application

ELISA

Reactivity

Human

Assay Type

Sandwich ELISA

Suitable Sample Type

serum, plasma, cell culture supernates

Format

96-well strip plate

Storage

4℃ (unopened)standard stored at -20℃, others stored at 4℃ (opened)

Shipping Condition

4℃

Sample Volume

10 μl

Sensitivity

5.31 pg/ml

Standard Curve Range

15.63 - 1000 pg/ml

Spike Recovery Range

80 % - 109%

Mean Spike Recovery

0.96

CV of Intra plate

2.8 % - 6.6 %

CV of Inter plate

2.2 % - 5.7 %

Components

96-well polystyrene microplate coated with a monoclonal antibody against IL-16
Human IL-16 Standard, lyophilized
IL-16 Detect Antibody
Standard Diluent
Streptavidin-HRP
Assay Buffer (10×)
Substrate (TMB)
Stop Solution
washing Buffer (20×)
Plate Covers

Describtion

This assay employs the quantitative sandwich enzyme immunoassay technique for the quantitative detection of human IL-16. The Human IL-16 ELISA is for research use only. Not for diagnostic or therapeutic procedures.
Interleukin 16 (IL-16) is a cytokine that is released by a variety of cells (including lymphocytes and some epithelial cells) that has been characterized as a chemoattractant for certain immune cells expressing the cell surface molecule CD4. IL-16 was originally described as a factor that could attract activated T cells in humans, it was previously called lymphocyte chemoattractant factor (LCF). Since then, IL-16 has been shown to recruit and activate many other cells expressing the CD4 molecule, including monocytes, eosinophils, and dendritic cells. The protein encoded by this gene is a pleiotropic cytokine that functions as a chemoattractant, a modulator of T cell activation, and an inhibitor of HIV replication. The signaling process of this cytokine is mediated by CD4.
IL-16 expression has been linked to inflammation processes in asthma, rheumatoid arthritis, systemic lupus erythematosus, colitis, atopic dermatitis, and multiple sclerosis. For example, the expression of IL-16 directly correlates with the number of infiltrating CD4+ T cells in asthmatic epithelium.