---
Product Details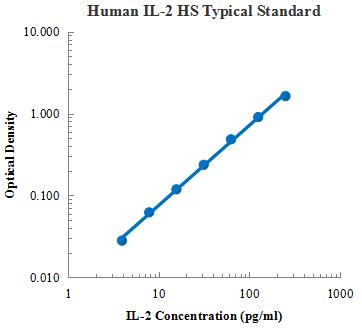 Assay Type
Sandwich ELISA
Suitable Sample Type
serum, plasma, cell culture supernates
Format
96-well strip plate
Storage
4℃ (unopened)standard stored at -20℃, others stored at 4℃ (opened)
Shipping Condition
4℃
Sample Volume
20 μl
Sensitivity
0.31 pg/ml
Standard Curve Range
3.91 - 250 pg/ml
Spike Recovery Range
101%-129%
Mean Spike Recovery
122%
CV of Intra plate
4.2 % - 4.9 %
CV of Inter plate
6.0 % -11.1%
Components

96-well polystyrene microplate coated with a monoclonal antibody against IL-2

Human IL-2 Standard, lyophilized

IL-2 Detect Antibody

Standard Diluent

Streptavidin-HRP

Amplification Reagent Concentrate

Amplification Diluent

Assay Buffer (10×)

Substrate (TMB)

Stop Solution

Washing Buffer (20×)

Plate Covers

Describtion

This assay employs the quantitative sandwich enzyme immunoassay technique for the quantitative detection of human IL-2. The Human IL-2 ELISA is for research use only. Not for diagnostic or therapeutic procedures.

Interleukin 2 (IL-2) is a 15 kDa glycoprotein encoded by a single gene located in the q26-28 region of human chromosome 4. It is a type of cytokine signaling molecule in the immune system, regulating the activities of white blood cells (leukocytes, often lymphocytes) responsible for immunity. IL-2 is part of the body's natural response to microbial infection, and in discriminating between foreign (""non-self"") and ""self"". IL-2 mediates its effects by binding to IL-2 receptors, a complex consisting of three chains, termed α (CD25), β (CD122) and γ (CD132).

Monitoring of IL-2 levels in serum provides more detailed insights in several pathological situations such as cancer, infectious diseases, transplant rejection, multiple sclerosis, rheumatoid arthritis, systemic lupus erythematosus and type I diabetes.