---
Product Details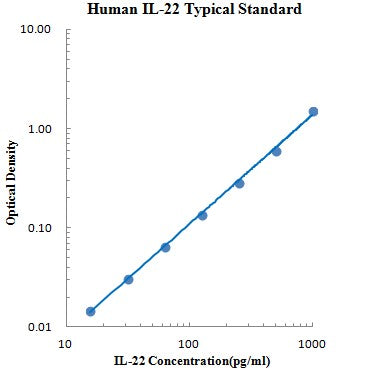 Brand
MultiSciences
CatNum
70-EK122
Product Name
Human IL-22 ELISA Kit
Customs Name
Human IL-22 ELISA Kit
Application
ELISA
Reactivity
Human
Assay Type
Sandwich ELISA
Suitable Sample Type
serum, plasma, cell culture supernates
Format
96-well strip plate
Storage
4℃ (unopened) standard stored at -20℃, others stored at 4℃ (opened)
Shipping Condition
4℃
Sample Volume
50μl
Sensitivity
2.56 pg/ml
Standard Curve Range
15.63 - 1000 pg/ml
Spike Recovery Range
84 % - 114 %
Mean Spike Recovery
1.02
CV of Intra plate
1.8 % - 4.5 %
CV of Inter plate
1.8 % - 4.4 %
Components
96-well polystyrene microplate coated with a monoclonal antibody against IL-22
Human IL-22 Standard, lyophilized
IL-22 Detect Antibody
Standard Diluent
Streptavidin-HRP
Assay Buffer (10×)
Substrate (TMB)
Stop Solution
washing Buffer (20×)
Plate Covers
Describtion
This assay employs the quantitative sandwich enzyme immunoassay technique for the quantitative detection of human IL-22. The Human IL-22 ELISA is for research use only. Not for diagnostic or therapeutic procedures.
Interleukin 22 (IL-22) is a member of a group of cytokines called the IL-10 family or IL-10 superfamily (including IL-19, IL-20, IL-24, and IL-26), a class of potent mediators of cellular inflammatory responses. It shares use of IL-10R2 in cell signaling with other members of this family, IL-10, IL-26, IL-28A/B and IL-29. IL-22 is produced by activated DC and T cells and initiates innate immune responses against bacterial pathogens especially in epithelial cells such as respiratory and gut epithelial cells. IL-22 along with IL-17 is rapidly produced by splenic LTi-like cells and can be also produced by Th17 cells and likely plays a role in the coordinated response of both adaptive and innate immune systems.
Psoriatic patients show strongly elevated IL-22 plasma levels, which correlated with the disease severity. IL-22 plays a protective role in T cell-mediated hepatitis induced by Concanavalin A (Con A), acting as a survival factor for hepatocytes. IL-22 is present in high quantities in the blood of Crohn's disease patients in contrast to IFN-γ and IL-17.