---
Product Details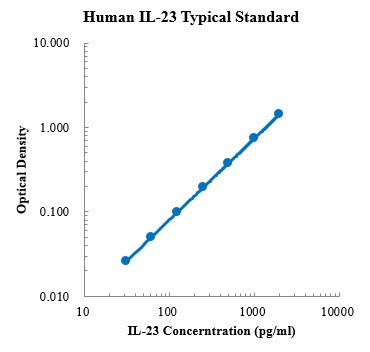 Brand
MultiSciences
CatNum
70-EK123
Product Name
Human IL-23 ELISA Kit
Customs Name
Human IL-23 ELISA Kit
Application
ELISA
Reactivity
Human
Assay Type
Sandwich ELISA
Suitable Sample Type
serum, plasma, cell culture supernates
Format
96-well strip plate
Storage
4℃ (unopened) standard stored at -20℃, others stored at 4℃ (opened)
Shipping Condition
4℃
Sample Volume
50 μl
Sensitivity
1.82 pg/ml
Standard Curve Range
31.25 - 2000 pg/ml
Spike Recovery Range
86 % - 110 %
Mean Spike Recovery
0.99
CV of Intra plate
3.4 % - 5.3 %
CV of Inter plate
3.4 % - 4.8 %
Components
96-well polystyrene microplate coated with a monoclonal antibody against IL-23
Human IL-23 Standard, lyophilized
IL-23 Detect Antibody
Standard Diluent
Streptavidin-HRP
Assay Buffer (10×)
Substrate (TMB)
Stop Solution
washing Buffer (20×)
Plate Covers
Describtion
This assay employs the quantitative sandwich enzyme immunoassay technique for the quantitative detection of human IL-23. The Human IL-23 ELISA is for research use only. Not for diagnostic or therapeutic procedures.
Interleukin 23 (IL-23) is a heterodimeric cytokine that is related to IL-12. IL-23 is a heterodimeric cytokine composed of an IL-12p40 subunit that is shared with IL-12 and the IL-23p19 subunit. A functional receptor for IL-23 (the IL-23 receptor) has been identified and is composed of IL-12Rβ1 and IL-23R. Human IL-23 has biological properties which are less distinct from human IL-12; human IL-23 induces proliferation of memory T cells and induces moderate levels of IFN-γ production by na?ve and memory T cells, as compared to IL-12.
IL-23 effects on IL-17-producing T cells may also enhance the development of several models of autoimmune disease including experimental allergic encephalomyelitis (EAE), collagen-induced arthritis (CIA), colitis, and diabetes. IL-23 may also play a role in increased tumor growth associated with chronic inflammation. In humans, IL-23 has been found upregulated in several pathologies with dysregulated immune function including psoriasis, Crohn's disease, and multiple sclerosis.