---
Product Details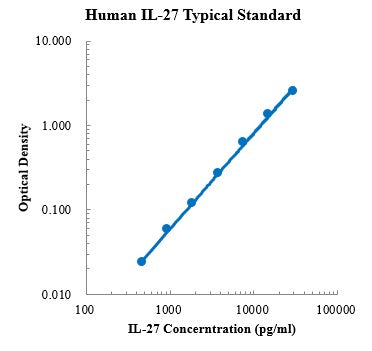 Brand
MultiSciences
CatNum
70-EK127
Product Name
Human IL-27 ELISA Kit
Customs Name
Human IL-27 ELISA Kit
Application
ELISA
Reactivity
Human
Assay Type
Sandwich ELISA
Suitable Sample Type
serum, plasma, cell culture supernates
Format
96-well strip plate
Storage
4℃ (unopened) standard stored at -20℃, others stored at 4℃ (opened)
Shipping Condition
4℃
Sample Volume
50 μl
Sensitivity
191.53 pg/ml
Standard Curve Range
468.75 - 30000 pg/ml
Spike Recovery Range
80 % - 120 %
Mean Spike Recovery
0.96
CV of Intra plate
3.8 % - 4.4 %
CV of Inter plate
2.9 % - 5.0 %
Components
96-well polystyrene microplate coated with a monoclonal antibody against IL-27
Human IL-27 Standard, lyophilized
IL-27 Detect Antibody
Standard Diluent
Streptavidin-HRP
Assay Buffer (10×)
Substrate (TMB)
Stop Solution
washing Buffer (20×)
Plate Covers
Describtion
This assay employs the quantitative sandwich enzyme immunoassay technique for the quantitative detection of human IL-27. The Human IL-27 ELISA is for research use only. Not for diagnostic or therapeutic procedures.
Interleukin 27 (IL-27), a member of the IL-12 family, is a heterodimeric protein consisting of two subunits: Epstein-Barr virus (EBV)-induced gene 3 (EBI3) (also known as IL-27B) and IL-27 p28 (known as IL-30). IL-27 is produced by antigen-presenting cells and plays an important function in regulating the activity of B- and T-lymphocytes. The effects of IL-27 are eliciting by its interaction with a specific cell-surface receptor complex composed of two proteins known as IL-27R and gp130.
IL-27 has both pro- and anti-inflammatory properties. In response to infection, IL-27 induces monocytes and mast cells to secrete pro-inflammatory cytokines. It induces naive CD4+ T cells to proliferate and develop Th1 cell responses. IL-27 also promotes effector functions of NK cells and CD8+ T cells. As an anti-inflammatory immunomodulator, IL-27 has been found to have the ability to inhibit Th1 or Th2 responses and restrict the strength and duration of adaptive immune responses. Recent studies indicate that IL-27 has potent anti-tumor activity. It has been reported that IL-27 is critically involved in the induction of inflammation in rheumatoid arthritis.