---
Product Details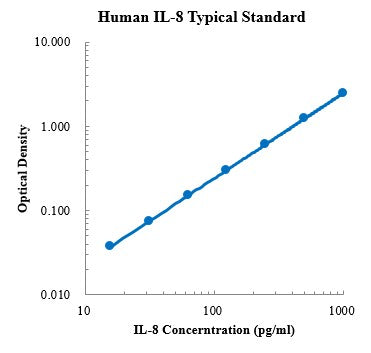 Brand
MultiSciences
CatNum
70-EK108
Product Name
Human IL-8 ELISA Kit
Customs Name
Human IL-8 ELISA Kit
Application
ELISA
Reactivity
Human
Assay Type
Sandwich ELISA
Suitable Sample Type
serum, plasma, cell culture supernates
Format
96-well strip plate
Storage
4℃ (unopened) standard stored at -20℃, others stored at 4℃ (opened)
Shipping Condition
4℃
Sample Volume
50 μl
Sensitivity
0.78 pg/ml
Standard Curve Range
15.63 - 1000 pg/ml
Spike Recovery Range
87 % - 111 %
Mean Spike Recovery
0.99
CV of Intra plate
4.0 % - 4.9 %
CV of Inter plate
4.5 % - 6.5 %
Release Date
2015/4/1
Components
96-well polystyrene microplate coated with a monoclonal antibody against IL-8
Human IL-8 Standard, lyophilized
IL-8 Detect Antibody
Standard Diluent
Streptavidin-HRP
Assay Buffer (10×)
Substrate (TMB)
Stop Solution
washing Buffer (20×)
Plate Covers
Describtion
This assay employs the quantitative sandwich enzyme immunoassay technique for the quantitative detection of human IL-8/NAP-1. The Human IL-8 ELISA is for research use only. Not for diagnostic or therapeutic procedures.
IL-8, also known as CXCL8, GCP-1, and NAP-1, purified from peripheral blood monocytes is a 10 kDa protein showing at least 4 variant forms (77, 72, 70, and 69 amino acids, respectively) which differ in the length of the N-terminal and readily form dimers in solution. There are many receptors on the surface membrane capable of binding IL-8; the most frequently studied types are the G protein-coupledserpentine receptors CXCR1 and CXCR2. Expression and affinity for IL-8 differs between the two receptors (CXCR1 > CXCR2). IL-8, also known as neutrophil chemotactic factor, has two primary functions. It induces chemotaxis in target cells, primarily neutrophils but also other granulocytes, causing them to migrate toward the site of infection. IL-8 also induces phagocytosis once they have arrived. IL-8 is also known to be a potent promoter of angiogenesis.
IL-8 is often associated with inflammation. As an example, it has been cited as a proinflammatory mediator in gingivitis and psoriasis. IL-8 secretion is increased by oxidant stress, which thereby cause the recruitment of inflammatory cells and induces a further increase in oxidant stress mediators, making it a key parameter in localized inflammation. IL-8 was shown to be associated with obesity.