---
Product Details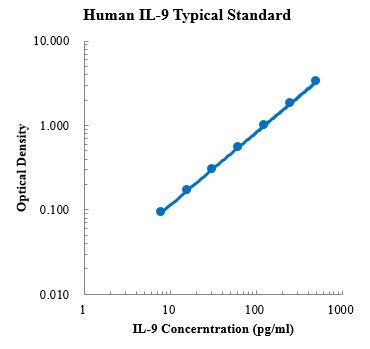 Brand
MultiSciences
CatNum
70-EK109
Product Name
Human IL-9 ELISA Kit
Customs Name
Human IL-9 ELISA Kit
Application
ELISA
Reactivity
Human
Assay Type
Sandwich ELISA
Suitable Sample Type
serum, plasma, cell culture supernates
Format
96-well strip plate
Storage
4℃ (unopened) standard stored at -20℃, others stored at 4℃ (opened)
Shipping Condition
4℃
Sample Volume
50 μl
Sensitivity
0.06 pg/ml
Standard Curve Range
7.81 - 500 pg/ml
Spike Recovery Range
80 % - 117 %
Mean Spike Recovery
1.04
CV of Intra plate
2.9 % - 3.4 %
CV of Inter plate
3.3 % - 5.7 %
Release Date
2015/4/1
Components
96-well polystyrene microplate coated with a monoclonal antibody against IL-9
Human IL-9 Standard, lyophilized
IL-9 Detect Antibody
Standard Diluent
Streptavidin-HRP
Assay Buffer (10×)
Substrate (TMB)
Stop Solution
washing Buffer (20×)
Plate Covers
Describtion
This assay employs the quantitative sandwich enzyme immunoassay technique for the quantitative detection of human IL-9. The Human IL-9 ELISA is for research use only. Not for diagnostic or therapeutic procedures.
IL-9 is an extensively glycosylated protein of 14 kDa containing ten cysteine residues involved in disulfide bonding.The protein encoded by this gene is a cytokine produced by T-cells and specifically by CD4+ helper cells that acts as a regulator of a variety of hematopoietic cells. This cytokine stimulates cell proliferation and prevents apoptosis. It functions through the interleukin-9 receptor (IL-9R), which activates different signal transducer and activator (STAT) proteins and thus connects this cytokine to various biological processes. The gene encoding this cytokine has been identified as a candidate gene for asthma. Genetic studies on a mouse model of asthma demonstrated that this cytokine is a determining factor in the pathogenesis of bronchial hyperresponsiveness.
The existence of an IL-9-mediated autocrine loop has been suggested for some malignancies such as Hodgkin's disease and large cell anaplastic lymphoma for Hodgkin's cell lines. IL-9 is expressed by Reed-Sternberg cells and Hodgkin lymphoma cells and some large aplastic lymphoma cells, while non-Hodgkin lymphomas and peripheral T-cell lymphomas do not express it.