---
Product Details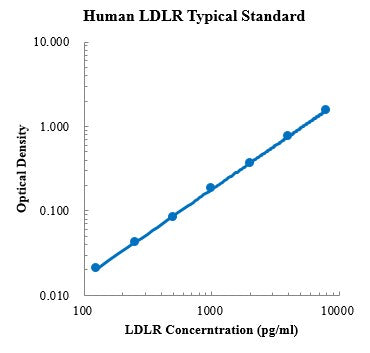 Brand
MultiSciences
CatNum
70-EK1190
Product Name
Human LDL Receptor/LDLR ELISA Kit
Customs Name
Human LDL Receptor/LDLR ELISA Kit
Application
ELISA
Reactivity
Human
Assay Type
Sandwich ELISA
Suitable Sample Type
serum, plasma, cell culture supernates
Format
96-well strip plate
Storage
4℃ (unopened) standard stored at -20℃, others stored at 4℃ (opened)
Shipping Condition
4℃
Sample Volume
100 μl (prediluted)
Sensitivity
6.32 pg/ml
Standard Curve Range
125.00 - 8000 pg/ml
Spike Recovery Range
-
Mean Spike Recovery
-
CV of Intra plate
3.0 % - 4.3 %
CV of Inter plate
2.3 % - 3.6 %
Components
96-well polystyrene microplate coated with a monoclonal antibody against LDLR
Human LDLR Standard, lyophilized
LDLR Detect Antibody
Assay Buffer (10×)
Substrate (TMB)
Stop Solution
Washing Buffer (20×)
Plate Covers
Describtion
This assay employs the quantitative sandwich enzyme immunoassay technique for the quantitative detection of human LDLR. The Human LDL Receptor/LDLR ELISA is for research use only. Not for diagnostic or therapeutic procedures.
Low-density lipoprotein (LDL) receptor (LDLR) is a mosaic protein of 839 amino acids which belongs to the LDLR gene family. It is a cell-surface receptor that recognizes the Apo B100, which is embedded in the outer phospholipid layer of LDL particles. The receptor also recognizes the Apo E protein found in chylomicron remnants and VLDL remnants.
LDLR mediates the endocytosis of cholesterol-rich LDL. LDLR complexes are present in clathrin-coated pits (or buds) on the cell surface, which when bound to LDL-cholesterol via adaptin, are pinched off to form clathrin-coated vesicles inside the cell. This allows LDL-cholesterol to be internalized in a process known as endocytosis and prevents the LDL just diffusing around the membrane surface. This occurs in all nucleated cells, but mainly in the liver which removes ~70% of LDL from the circulation. Hyperthyroidism may be associated with hypocholesterolaemia via upregulation of the LDLR, and hypothyroidism with the converse.