---
Product Details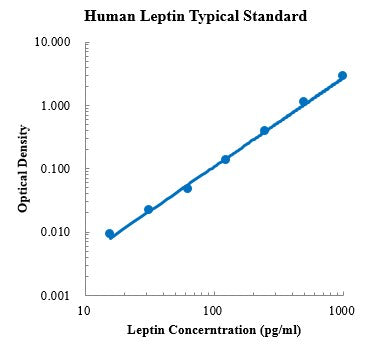 Brand
MultiSciences
CatNum
70-EK197
Product Name
Human Leptin ELISA Kit
Customs Name
Human Leptin ELISA Kit
Application
ELISA
Reactivity
Human
Assay Type
Sandwich ELISA
Suitable Sample Type
serum, plasma, cell culture supernates
Format
96-well strip plate
Storage
4℃ (unopened) standard stored at -20℃, others stored at 4℃ (opened)
Shipping Condition
4℃
Sample Volume
10 μl
Sensitivity
12.9 pg/ml
Standard Curve Range
15.63 - 1000 pg/ml
Spike Recovery Range
87 % - 112 %
Mean Spike Recovery
0.98
CV of Intra plate
2.5 % - 4.8 %
CV of Inter plate
2.7 % - 4.4 %
Components
96-well polystyrene microplate coated with a monoclonal antibody against Leptin
Human Leptin Standard, lyophilized
Leptin Detect Antibody
Streptavidin-HRP
Assay Buffer (10×)
Substrate (TMB)
Stop Solution
washing Buffer (20×)
Plate Covers
Describtion
This assay employs the quantitative sandwich enzyme immunoassay technique for the quantitative detection of human Leptin. The Human Leptin ELISA is for research use only. Not for diagnostic or therapeutic procedures.
Leptin is a 16 kDa, non-glycosylated polypeptide that regulates adipose tissue mass and energy balance. It is a hormone made by fat cells which regulates the amount of fat stored in the body by adjusting both the sensation of hunger, and adjusting energy expenditures. The effect of leptin is opposite to that of ghrelin. Leptin acts on receptors in the hypothalamus, where it inhibits hunger by counteracting the effects of neuropeptide Y and anandamide, and promoting the synthesis of α-MSH. It controls food intake and energy expenditure by acting on receptors in the mediobasal hypothalamus. Although regulation of fat stores is deemed to be the primary function of leptin, it also plays a role in other physiological processes, as evidenced by its multiple sites of synthesis other than fat cells, and the multiple cell types beside hypothalamic cells which have leptin receptors. Leptin deficiency also influences the immune system, depressing Th1 responses and causing increased frequency of infections. Leptin also regulates puberty, blocking the onset of puberty, or of menses if Leptin deficiency exists due to excessive thinness, such as results from starvation, extreme exercise-induced weight loss, anorexia or cancer-induced cachexia.