---
Product Details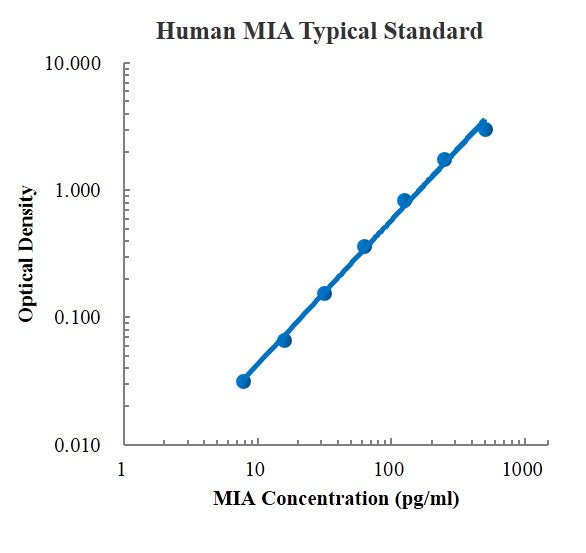 Factory Name

MultiSciences

Product Code

70-EK1276

Cat Num

EK1276

Product Name
Human MIA ELISA Kit
Customs Name

Human MIA ELISA Kit

Product Spec
96 T
Application

ELISA

Reactivity

Human

SDS

SDS-EK1276

Assay Type
Sandwich ELISA
Suitable Sample Type

serum, plasma, cell culture supernates

Format

96-well strip plate

Storage

4℃ (unopened)standard stored at -20℃, others stored at 4℃ (opened)

Shipping Condition

4℃

Sample Volume

10 μl

Sensitivity

0.04 pg/ml

Standard Curve Range

7.81 - 500 pg/ml

Spike Recovery Range

86% - 97%

Mean Spike Recovery

90%

CV of Intra plate

3.2% - 5.2%

CV of Inter plate

3.5% - 6.4%

Components

96-well polystyrene microplate coated with a monoclonal antibody against MIA

Human MIA Standard, lyophilized

MIA Detect Antibody

Standard Diluent

Streptavidin-HRP

Assay Buffer (10×)

Substrate (TMB)

Stop Solution

Washing Buffer (20×)

Plate Covers

Describtion

This assay employs the quantitative sandwich enzyme immunoassay technique for the quantitative detection of human MIA. The Human MIA ELISA is for research use only. Not for diagnostic or therapeutic procedures.

Melanoma Inhibiting Activity (MIA), also known as cartilage-derived retinoic acid-sensitive protein (CD-RAP), is an approximately 11 - 15 kDa protein expressed in cartilaginous tissue during development and in the adult. MIA disrupts cellular interactions with the extracellular matrix by binding to Integrins alpha 4 beta 1 and alpha 5 beta 1. It competes with Fibronectin fragments for Integrin binding and interferes with Integrin signaling. MIA functions as a chemoattractant for mesenchymal stem cells and enhances their BMP-2 and TGF-β3 induced differentiation into chondrocytes. MIA-deficient mice exhibit delayed chondrocyte differentiation but enhanced chondrocyte proliferation and cartilage repair. It is upregulated in several cancers including malignant melanoma, lung adenoma, metastatic oral squamous cell carcinoma, neurofibromatosis type 1 (NF-1)-related tumors, and pancreatic cancer. MIA serum levels are elevated in advanced malignant melanoma and NF1-related tumors as well as in rheumatoid arthritis.