---
Product Details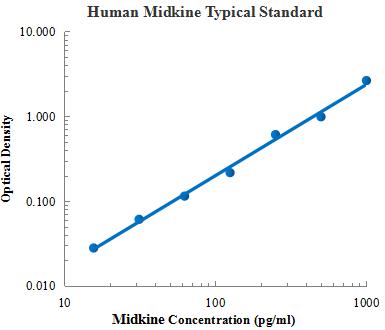 Factory Name
MultiSciences
CatNum
EK1253
Product Name
Human Midkine ELISA Kit
Customs Name
Human Midkine ELISA Kit
Type
ELISA
Application
ELISA
Reactivity
Human
Assay Type
Sandwich ELISA
Suitable Sample Type
serum, plasma, cell culture supernates
Format
96-well strip plate
Storage
4℃ (unopened)standard stored at -20℃, others stored at 4℃ (opened)
Shipping Condition
4℃
Sample Volume
5 μl
Sensitivity
4.59 pg/ml
Standard Curve Range
15.63 - 1000 pg/ml
Spike Recovery Range
97% - 118%
Mean Spike Recovery
106%
CV of Intra plate
4.5% - 5.6%
CV of Inter plate
4.1% - 9.0%
Components
96-well polystyrene microplate coated with a monoclonal antibody against Midkine
Human Midkine Standard, lyophilized
Midkine Detect Antibody
Standard Diluent
Assay Buffer (10×)
Substrate (TMB)
Stop Solution
Washing Buffer (20×)
Plate Covers
Describtion
This assay employs the quantitative sandwich enzyme immunoassay technique for the quantitative detection of human Midkine. The Human Midkine ELISA is for research use only. Not for diagnostic or therapeutic procedures.
Midkine (MK or MDK) is a 15 kDa heparin-binding molecule, also known as neurite growth-promoting factor 2 (NEGF2) is a protein that in humans is encoded by the MDK gene. Midkine is pleiotropic, capable of exerting activities such as cell proliferation, cell migration, angiogenesis and fibrinolysis. The expression of Midkine has been found to be elevated in multiple cancer types, such as neuroblastoma, colorectal, liver, ovary cancers and so on. Serum Midkine in patients with these malignancieis usually have much higher levels than normal individuals.In some cases, these elevated levels of Midkine also indicate a poorer prognosis of the disease, such as in neuroblastoma,gliablastoma and bladder carcinomas. Midkine binds to cell-surface nucleolin as a low affinity receptor. This binding can inhibit HIV infection.