---
Product Details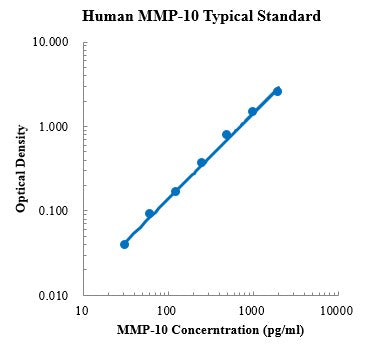 Brand
MultiSciences
CatNum
70-EK1M10
Product Name
Human MMP-10 ELISA Kit
Customs Name
Human MMP-10 ELISA Kit
Application
ELISA
Reactivity
Human
Assay Type
Sandwich ELISA
Suitable Sample Type
serum, plasma, cell culture supernates
Format
96-well strip plate
Storage
4℃ (unopened) standard stored at -20℃, others stored at 4℃ (opened)
Shipping Condition
4℃
Sample Volume
10 μl
Sensitivity
4.27 pg/ml
Standard Curve Range
31.25 - 2000 pg/ml
Spike Recovery Range
87 % - 122 %
Mean Spike Recovery
1.04
CV of Intra plate
4.7 % - 9.8 %
CV of Inter plate
3.7 % - 6.9 %
Components
96-well polystyrene microplate coated with a monoclonal antibody against MMP-10
Human MMP-10 Standard, lyophilized
MMP-10 Detect Antibody
Streptavidin-HRP
Assay Buffer (10×)
Substrate (TMB)
Stop Solution
washing Buffer (20×)
Plate Covers
Describtion
This assay employs the quantitative sandwich enzyme immunoassay technique for the quantitative detection of human MMP-10. The Human MMP-10 ELISA is for research use only. Not for diagnostic or therapeutic procedures.
Matrix metalloproteinase-10 (MMP-10) also known as stromelysin-2 or transin-2 is an enzyme that in humans is encoded by the MMP10 gene. Proteins of the matrix metalloproteinase (MMP) family are involved in the breakdown of extracellular matrix in normal physiological processes, such as embryonic development, reproduction, and tissue remodeling, as well as in disease processes, such as arthritis and metastasis. Most MMP's are secreted as inactive proproteins which are activated when cleaved by extracellular proteinases. The enzyme encoded by this gene degrades proteoglycans and fibronectin. The gene is part of a cluster of MMP genes which localize to chromosome 11q22.3. MMP-10 has been linked to cancer stem cell vitality and metastasis.
This kit is designed to measure e pro form of recombinant human MMP-10 and the mature form of recombinant human MMP-10 by itself or when complexed to recombinant human TIMP-1.