---
Product Details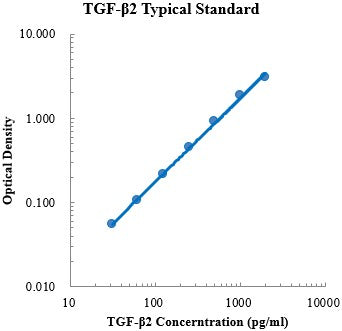 Brand
MultiSciences
CatNum
70-EK9162
Product Name
Human/Mouse/Rat TGF-β2 ELISA Kit
Customs Name
Human/Mouse/Rat TGF-β2 ELISA Kit
Application
ELISA
Reactivity
Human /Mouse/Rat
Assay Type
Sandwich ELISA
Suitable Sample Type
serum, plasma, cell culture supernates
Format
96-well strip plate
Storage
4℃ (unopened) standard stored at -20℃, others stored at 4℃ (opened)
Shipping Condition
4℃
Sample Volume
20 μl (prediluted)
Sensitivity
0.33 pg/ml
Standard Curve Range
31.25 - 2000 pg/ml
Spike Recovery Range
88 % - 120%
Mean Spike Recovery
1.07
CV of Intra plate
2.7 % - 4.5 %
CV of Inter plate
3.3 % - 4.8%
Components
96-well polystyrene microplate coated with a monoclonal antibody against TGF-β2
Human/Mouse/Rat TGF-β2 Standard, lyophilized
TGF-β2 Detect Antibody
Standard Diluent
Streptavidin-HRP
Assay Buffer (10×)
Substrate (TMB)
Stop Solution
washing Buffer (20×)
Plate Covers
Describtion
This assay employs the quantitative sandwich enzyme immunoassay technique for the quantitative detection of human, mouse and rat TGF-β2. The Human/Mouse/Rat TGF-β2 ELISA is for research use only. Not for diagnostic or therapeutic procedures.
Transforming growth factor beta 2 (TGF-β2) is synthesized as a prepro-cytokine with a 19 amino acid (aa) signal sequence, a 283 aa pro-region, and a 112 aa mature segment. The mature region of human TGF-β2 is 71 % and 80 % identical with human TGF-β1 and TGF-β3 and 97 % identical with the corresponding mouse protein. It is expressed by a variety of cells, including osteoclasts, thymic epithelium, keratinocytes, hepatocytes, chief cells of the stomach, satellite cells, etc. TGF-β2 has marked cross-species bioactivity (e.g., human TGF-β2 is active on mouse cells, while porcine TGF-β2 is active on rabbit cells). TGF-β2 has four fundamental activities: it is a growth inhibitor for most types of cells; it enhances the deposition of extracellular matrix; it is immunosuppressive, suppressing APC expression of both IL-12 and CD40L while upregulating IL-10 secretion; and during fetal development, it is expressed in discrete areas, such as epithelium, myocardium, cartilage and bone of extremities and in the nervous system, suggesting specific functions.