---
Product Details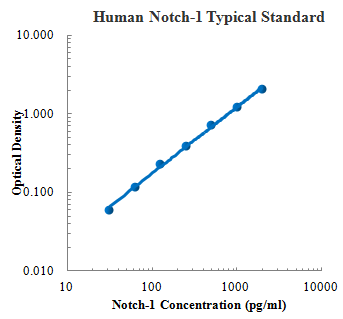 Factory Name
MultiSciences
Product Code
70-EK1364-96
CatNum
EK1364-96
Product Name
Human Notch-1 ELISA Kit
Customs Name
Human Notch-1 ELISA Kit
Product Spec
96T
SalePrice
3200
Type
ELISA Kit
Application
ELISA
Reactivity
Human
Modality
NoData
Assay Type
Sandwich ELISA
Suitable Sample Type
serum, plasma, cell culture supernates
Format
96-well strip plate
Storage
4℃ (unopened) standard stored at -20℃, others stored at 4℃ (opened)
Shipping Condition
4℃
Sensitivity
3.38 pg/ml
Standard Curve Range
78.13 - 5000 pg/ml
Spike Recovery Range
82 %-118 %
Mean Spike Recovery
98%
CV of Intra plate
2.0 % - 3.3 %
CV of Inter plate
2.7 % - 4.6 %
Components

96-well polystyrene microplate (12 strips of 8 wells) coated with an antibody against human FGF basic

Human Notch-1 Standard, lyophilized

Notch-1 Detect Antibody

Standard Diluent  

Streptavidin-HRP                                                                                         

Assay Buffer (10×)

Substrate

Stop Solution

Washing Buffer (20×)

Adhesive Films

PRINCIPLE OF THE ASSAY
Human Notch-1 ELISA Kit is based on the quantitative sandwich enzyme-linked immunosorbent assay technique to measure concentration of human Notch-1 in the samples. An antibody specific for human Notch-1 has been immobilized onto microwells. Standard or samples are pipetted into the wells, followed by the addition of biotin-linked detect antibody specific for Notch-1, and Notch-1 present is bound by the immobilized antibody and detect antibody following the first incubation. After removal of any unbound substances, streptavidin-HRP is added for a second incubation. After washing, substrate solution reacts with HRP and color develops in proportion to the amount of Notch-1 bound by the immobilized antibody. The color development is stopped by addition of acid and the optical density value is measured by microplate reader.
Describtion

The Notch signaling pathway is a ubiquitous pathway that controls a variely of processes during development. The Notch family comprises a group of highly conserved proteins that function both as cell surface receptors and direct regulators of gene transcription. It plays a significant role in the regulation of cell proliferation,apoptosis,differentiation,as well as a series of physiological and pathological processes.In addition,it has a vital effect in cancer occurrence and development.Notch-1 is a 300 kDa type 1 transmembrane glycoprotein that is one of four Notch homologues involved in developmental processes . Members of this Type 1 transmembrane protein family share structural characteristics including an extracellular domain consisting of multiple epidermal growth factor-like (EGF) repeats, and an intracellular domain consisting of multiple, different domain types. Notch family members play a role in a variety of developmental processes by controlling cell fate decisions.

Notch-1?pathway?was?associated?with?cellular?differentiation,?proliferation,?apoptosis?and adherency. The aberrant activation of Notch-1 signaling pathway has been proven to be associated with the development and progression of cancers.