---
Product Details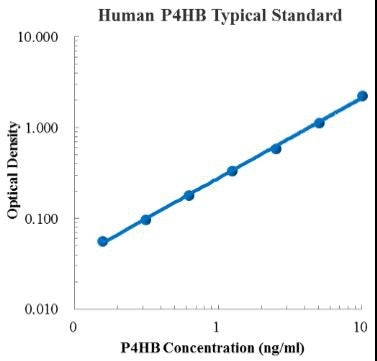 Factory Name
MultiSciences
Product Code
70-EK1368-96
CatNum
EK1368-96
Product Name
Human P4HB ELISA Kit
Customs Name
Human P4HB ELISA Kit
Product Spec
96T
SalePrice
3200
Type
ELISA Kit
Application
ELISA
Reactivity
Human
Modality
NoData
Assay Type
Sandwich ELISA
Suitable Sample Type
serum, plasma, cell culture supernates
Format
96-well strip plate
Storage
4℃ (unopened) standard stored at -20℃, others stored at 4℃ (opened)
Shipping Condition
4℃
Sensitivity
7.77 pg/ml
Standard Curve Range
0.16 - 10 ng/ml
Spike Recovery Range
77 %-104 %
Mean Spike Recovery
93%
CV of Intra plate
2.5 % - 3.9 %
CV of Inter plate
1.6 % - 6.2 %
Components

96-well polystyrene microplate (12 strips of 8 wells) coated with an antibody against human P4HB

Human P4HB Standard, lyophilized

P4HB Detect Antibody

Streptavidin-HRP                                                                                           

Assay Buffer (10×)

Substrate

Stop Solution

Washing Buffer (20×)

Adhesive Films

PRINCIPLE OF THE ASSAY
Human P4HB ELISA Kit is based on the quantitative sandwich enzyme-linked immunosorbent assay technique to measure concentration of human P4HB in the samples. An antibody specific for human P4HB has been pre-coated onto a microplate. Standard, samples and HRP-linked detect antibody specific for P4HB are pipetted into the wells and P4HB present is bound by the immobilized antibody and detect antibody following incubation. After washing, substrate solution is added to the wells and color develops in proportion to the amount of P4HB bound in the initial step. The color development is stopped and the intensity of the color is measured.
Describtion

Protein Disulfide Isomerase, also known as prolyl 4?hydroxylase subunit beta (P4HB), cellular thyroid hormone binding protein (p55) and glutathione-insulin transhydrogenase is a peripheral membrane protein which belongs to the protein disulfide isomerase family. It contains two thioredoxin domains that catalyze the formation, breakage and rearrangement of disulfide bonds. P4HB localizes near CD4-enriched regions on lymphoid cell surfaces. It is identified by mass spectrometry in melanosome fractions from stage I to stage IV. P4HB reduces and may activate fusogenic properties of HIV-1 gp120 surface protein, thereby enabling HIV-1 entry into the cell. P4HB acts as a chaperone that inhibits aggregation of misfolded proteins. P4HB may be involved with other chaperones in the structural modification of the TG precursor in hormone biogenesis.