---
Product Details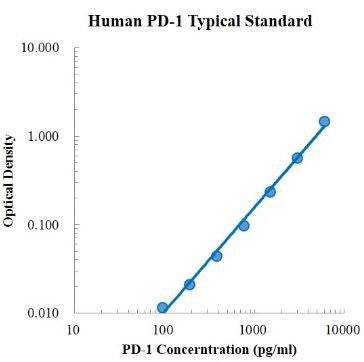 Factory Name
MultiSciences
Product Code
70-EK1271-96
CatNum
EK1271-96
Product Name
Human PD-1 ELISA Kit
Customs Name
Human PD-1 ELISA Kit
Product Spec
96T
SalePrice
2500
Type
ELISA Kit
Application
ELISA
Reactivity
Human
Modality
NoData
Assay Type
Sandwich ELISA
Suitable Sample Type
serum, plasma, cell culture supernates
Format
96-well strip plate
Storage
4℃ (unopened) standard stored at -20℃, others stored at 4℃ (opened)
Shipping Condition
4℃
Sensitivity
8.62 pg/ml
Standard Curve Range
93.75-6000 pg/ml
Spike Recovery Range
95%-118%
Mean Spike Recovery
107%
CV of Intra plate
4.8 % - 4.9 %
CV of Inter plate
4.2% - 4.6%
Components

96-well polystyrene microplate (12 strips of 8 wells) coated with a monoclonal antibody against human PD-1

Human PD-1 Standard, lyophilized

PD-1 Detect Antibody

Standard Diluent

Assay Buffer (10×)

Substrate (TMB)

Stop Solution

Washing Buffer (20×)

Adhesive Films 

Describtion

This assay employs the quantitative sandwich enzyme immunoassay technique for the quantitative detection of human β-NGF. The Human  β-NGF ELISA is for research use only. Not for diagnostic or therapeutic procedures.                  Programmed cell death protein 1, also known as PD-1 and CD279, is a protein that in humans is encoded by the PDCD1 gene. PD-1 is a cell surface receptor that belongs to the immunoglobulin superfamily and is expressed on T cells and pro-B cells. In vitro, ligation of PD-1 inhibits TCR-mediated T cell proliferation and production of IL-1, IL-4, IL-10, and IFN-γ. In addition, PD-1 ligation also inhibits BCR mediated signaling. PD-1 deficient mice have a defect in peripheral tolerance and spontaneously develop autoimmune diseases. The inhibitory effect of PD-1 is accomplished through a dual mechanism of promoting apoptosis (programmed cell death) in antigen specific T-cells in lymph nodes while simultaneously reducing apoptosis in regulatory T cells.