---
Product Details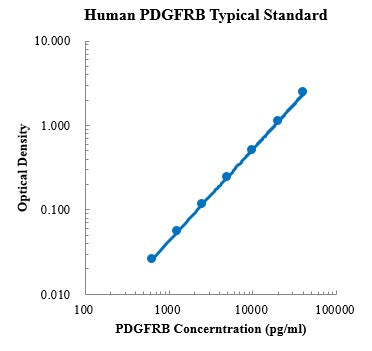 Brand
MultiSciences
CatNum
70-EK1232
Product Name
Human PDGFRB/CD140b ELISA Kit
Customs Name
Human PDGFRB/CD140b ELISA Kit
Application
ELISA
Reactivity
Human
Assay Type
Sandwich ELISA
Suitable Sample Type
serum, plasma, cell culture supernates
Format
96-well strip plate
Storage
4℃ (unopened) standard stored at -20℃, others stored at 4℃ (opened)
Shipping Condition
4℃
Sample Volume
20 μl
Sensitivity
48.54 pg/ml
Standard Curve Range
625.00 - 40000 pg/ml
Spike Recovery Range
70 % - 117 %
Mean Spike Recovery
0.88
CV of Intra plate
6.1 % - 8.7 %
CV of Inter plate
7.0 % - 8.2 %
Components
96-well polystyrene microplate coated with a monoclonal antibody against PDGFRB
Human PDGFRB Standard, lyophilized
PDGFRB Detect Antibody
Standard Diluent
Assay Buffer (10×)
Substrate (TMB)
Stop Solution
Washing Buffer (20×)
Plate Covers
Describtion
This assay employs the quantitative sandwich enzyme immunoassay technique for the quantitative detection of human PDGFRB. The Human PDGFRB/CD140b ELISA is for research use only. Not for diagnostic or therapeutic procedures.
Platelet-derived growth factor receptor beta (PDGFRB), also known as CD140b, together with the structurally homolog protein PDGFRA (CD140a) are members of the class III subfamily of receptor tyrosine kinases (RTK) that also includes the receptors for M-CSF, SCF, and Flt-3 ligand. All class III RTKs are characterized by the presence of five immunoglobulin-like domains in their extracellular region and a kinase domain in their intracellular region.
PDGF is a major serum mitogen that can exist as a homo or hetero-dimeric protein consisting of disulfide-linked PDGF-A and PDGF-B chains. The PDGF-AA, PDGF?BB, and PDGF?AB isoforms have been shown to bind to PDGFRA and PDGFRB with different affinities. PDGFRA binds all three PDGF isoforms with high affinity, whereas PDGFRB binds PDGF-BB only with high-affinity. PDGF binding induces receptor homo-and hetero-dimerization and signal transduction. The expression of PDGFRA and PDGFRB are independently regulated in various cell types. Recombinant soluble PDGFRB binds PDGF with high affinity and is potent PDGF antagonist.