---
Product Details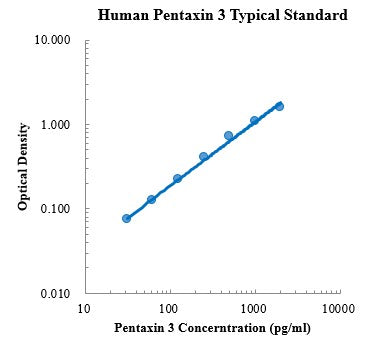 Brand

MultiSciences

CatNum

70-EK1157

Product Name

Human Pentraxin 3/TSG-14 ELISA Kit

Customs Name

Human Pentraxin 3/TSG-14 ELISA Kit

Application

ELISA

Reactivity

Human

Assay Type

Sandwich ELISA

Suitable Sample Type

serum, plasma, cell culture supernates

Format

96-well strip plate

Storage

4℃ (unopened) standard stored at -20℃, others stored at 4℃ (opened)

Shipping Condition

4℃

Sample Volume

10 μl

Sensitivity

0.56 pg/ml

Standard Curve Range

31.25 - 2000 pg/ml

Spike Recovery Range

75 % - 117 %

Mean Spike Recovery

0.93

CV of Intra plate

2.9 % - 6.3 %

CV of Inter plate

2.9 % - 3.8 %

Components

96-well polystyrene microplate coated with a monoclonal antibody against Pentraxin 3

Human Pentraxin 3 Standard, lyophilized

Pentraxin 3 Detect Antibody

Standard Diluent

Streptavidin-HRP

Assay Buffer (10×)

Substrate (TMB)

Stop Solution

Washing Buffer (20×)

Plate Covers

Describtion

This assay employs the quantitative sandwich enzyme immunoassay technique for the quantitative detection of human Pentraxin 3. The Human Pentraxin 3/TSG-14 ELISA is for research use only. Not for diagnostic or therapeutic procedures.

Pentraxin 3 also known as TNF-inducible gene 14 (TSG-14) is a member of the pentraxin superfamily characterized by cyclic multimeric structure. Pentraxin 3 is rapidly produced and released by several cell types, in particular by mononuclear phagocytes, dendritic cells (DCs), fibroblasts and endothelial cells in response to primary inflammatory signals (e.g., toll-like receptor (TLR) engagement, TNFα, IL-1β).

Pentraxin 3 behaves as an acute phase response protein, as the blood levels of Pentraxin 3, low in normal conditions (about 25 ng/ml in the mouse, < 2 ng/ml in humans), increase rapidly (peaking at 6 - 8 h after induction) and dramatically (200 - 800 ng/ml) during endotoxic shock, sepsis and other inflammatory and infectious conditions, correlating with the severity of the disease. Under these conditions, Pentraxin 3 is a rapid marker for primary local activation of innate immunity and inflammation. Studies showed that Pentraxin 3 has a dual role: protection against pathogens and control of autoimmunity.