---
Product Details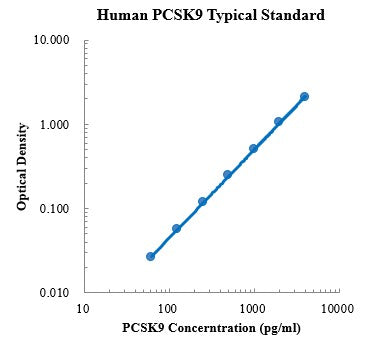 Brand
MultiSciences
CatNum
70-EK1124
Product Name
Human Proprotein Convertase 9/PCSK9 ELISA Kit
Customs Name
Human Proprotein Convertase 9/PCSK9 ELISA Kit
Application
ELISA
Reactivity
Human
Assay Type
Sandwich ELISA
Suitable Sample Type
serum, plasma, cell culture supernates
Format
96-well strip plate
Storage
4℃ (unopened) standard stored at -20℃, others stored at 4℃ (opened)
Shipping Condition
4℃
Sample Volume
10 μl (prediluted)
Sensitivity
3.39 pg/ml
Standard Curve Range
62.50 - 4000 pg/ml
CV of Intra plate
1.7 % - 7.6 %
CV of Inter plate
2.4 % - 5.8 %
Release Date
2015/11/26
Components
96-well polystyrene microplate coated with a monoclonal antibody against PCSK9
Human PCSK9 Standard, lyophilized
PCSK9 Detect Antibody
Streptavidin-HRP
Assay Buffer (10×)
Substrate (TMB)
Stop Solution
Washing Buffer (20×)
Plate Covers
Describtion
This assay employs the quantitative sandwich enzyme immunoassay technique for the quantitative detection of human PCSK9. The Human Proprotein Convertase 9/PCSK9 is for research use only. Not for diagnostic or therapeutic procedures.
Proprotein convertase subtilisin/kexin type 9 (PCSK9) is an enzyme belonging to the proteinase K subfamily of the secretory subtilase family. It is synthesized as a soluble zymogen that undergoes autocatalytic intramolecular processing in the endoplasmic reticulum. PCSK9 binds to the receptor for low-density lipoprotein (LDL) cholesterol, inducing LDLR degradation.
Variants of PCSK9 can reduce or increase circulating cholesterol. Other variants are associated with a rare autosomal dominant familial hypercholesterolemia (HCHOLA3). The mutations increase its protease activity, reducing LDLR levels and preventing the uptake of cholesterol into the cells.