---
Product Details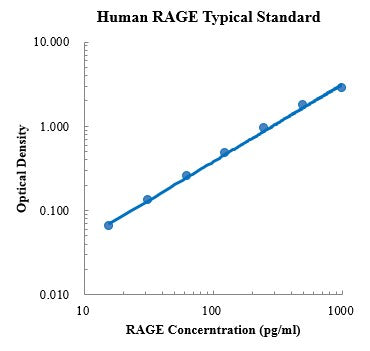 Brand
MultiSciences
CatNum
70-EK1103
Product Name
Human RAGE ELISA Kit
Customs Name
Human RAGE ELISA Kit
Application
ELISA
Reactivity
Human
Assay Type
Sandwich ELISA
Suitable Sample Type
serum, plasma, cell culture supernates
Format
96-well strip plate
Storage
4℃ (unopened) standard stored at -20℃, others stored at 4℃ (opened)
Shipping Condition
4℃
Sample Volume
20 μl
Sensitivity
0.75 pg/ml
Standard Curve Range
15.63 - 1000 pg/ml
Spike Recovery Range
89 % - 108 %
Mean Spike Recovery
1
CV of Intra plate
3.4 % - 5.0 %
CV of Inter plate
5.2 % - 5.9 %
Release Date
2015/11/26
Components
96-well polystyrene microplate coated with a monoclonal antibody against RAGE
Human RAGE Standard, lyophilized
RAGE Detect Antibody
Standard Diluent
Streptavidin-HRP
Assay Buffer (10×)
Substrate (TMB)
Stop Solution
Washing Buffer (20×)
Plate Covers
Describtion
This assay employs the quantitative sandwich enzyme immunoassay technique for the quantitative detection of human RAGE. The Human RAGE ELISA is for research use only. Not for diagnostic or therapeutic procedures.
Receptor for advanced glycation end product (RAGE) is a 35 kDa transmembrane receptor of the immunoglobulin super family. Its name comes from its ability to bind advanced glycation endproducts (AGE). In view of its inflammatory function in innate immunity and its ability to detect a class of ligands through a common motif, RAGE is often referred to as a pattern recognition receptor.
RAGE has been linked to several chronic diseases, such as atherosclerosis, peripheral vascular disease, myocardial infarction, congestive heart failure, diabetes, Alzheimer's disease and so on. RAGE is expressed at the highest levels in the lung compared to other tissues, in particular in alveolar epithelial type I cells, and is lost in Idiopathic pulmonary fibrosis (IPF) indicating that expression and regulation of RAGE in the pulmonary system differs from that in the vascular system. Blockade/knockdown of RAGE resulted in impaired cell adhesion, and increased cell proliferation and migration.