---
Product Details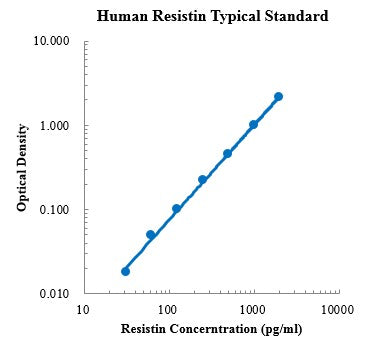 Brand
MultiSciences
CatNum
70-EK1R01
Product Name
Human Resistin ELISA Kit
Customs Name
Human Resistin ELISA Kit
Application
ELISA
Reactivity
Human
Assay Type
Sandwich ELISA
Suitable Sample Type
serum, plasma, cell culture supernates
Format
96-well strip plate
Storage
4℃ (unopened) standard stored at -20℃, others stored at 4℃ (opened)
Shipping Condition
4℃
Sample Volume
50 μl
Sensitivity
2.67 pg/ml
Standard Curve Range
31.25 - 2000 pg/ml
Spike Recovery Range
85 % - 108 %
Mean Spike Recovery
0.93
CV of Intra plate
4.6 % - 5.9 %
CV of Inter plate
5.0 % - 6.9 %
Components
96-well polystyrene microplate coated with a monoclonal antibody against Resistin
Human Resistin Standard, lyophilized
Resistin Detect Antibody
Streptavidin-HRP
Assay Buffer (10×)
Substrate (TMB)
Stop Solution
washing Buffer (20×)
Plate Covers
Describtion
This assay employs the quantitative sandwich enzyme immunoassay technique for the quantitative detection of human Resistin. The Human Resistin ELISA is for research use only. Not for diagnostic or therapeutic procedures.
Resistin, also known as Found In Inflammatory Zone 3 (FIZZ3) or Adipocyte Secreted Factor (ADSF), is a member of a protein family known as the Resistin-like molecules (RELMs). The length of the resistin pre-peptide in human is 108 amino acid residues and in the mouse and rat it is 114 aa; the molecular weight is ~12.5 kDa. Resistin is an adipose-derived hormone (similar to a cytokine) whose physiologic role has been the subject of much controversy regarding its involvement with obesity and type II diabetes mellitus (T2DM). The Resistin amino acid (aa) sequence contains a putative N-terminal signal sequence and a motif containing 11 cysteine residues, 10 of which are characteristic of the RELM family. The protein is thought to be secreted as a dimer and potentially exists in higher order molecular structures resulting from interactions between Resistin dimers or other members of the RELM family. A splice variant in the rat, lacking the signal sequence and localized predominantly to the nucleus, has also been described.
Resistin expression by human mononuclear cells could indicate a potential role in inflammation. In vitro, Resistin expression by these cells is enhanced by treatment with several pro-inflammatory cytokines including IL-1β, TNF-α, IFN-γ, or IL-6. In addition, Resistin has been shown to activate endothelial cells in vitro, leading to the production of adhesion molecules, Endothelin-1, and chemokines.