---
Product Details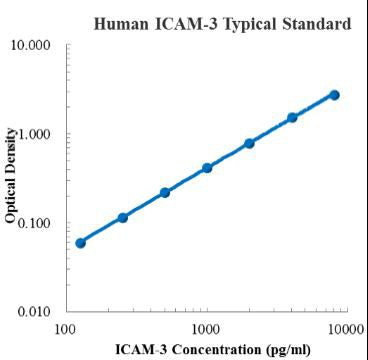 Factory Name
MultiSciences
Product Code
70-EK1312-96
CatNum
EK1312-96
Product Name
Human sICAM-3/CD50 ELISA Kit
Customs Name
Human sICAM-3/CD50 ELISA Kit
Product Spec
96T
SalePrice
3200
Type
ELISA Kit
Application
ELISA
Reactivity
Human
Modality
NoData
Assay Type
Sandwich ELISA
Suitable Sample Type
serum, plasma, cell culture supernates
Format
96-well strip plate
Storage
4℃ (unopened) standard stored at -20℃, others stored at 4℃ (opened)
Shipping Condition
4℃
Sensitivity
5.09 pg/ml
Standard Curve Range
125-8000 pg/ml
Spike Recovery Range
77%-112%
Mean Spike Recovery
0.93
CV of Intra plate
1.6% - 6.2%
CV of Inter plate
2.5% - 3.9%
Components

96-well polystyrene microplate (12 strips of 8 wells) coated with a monoclonal antibody against human sICAM-3

Human sICAM-3 Standard, lyophilized

sICAM-3 Detect Antibody

Standard Diluent

Streptavidin-HRP

Assay Buffer (10×)

Substrate (TMB)

Stop Solution

Washing Buffer (20×)

Adhesive Films 

Describtion

Intercellular Adhesion Molecule-3 (ICAM-3), also known as CD50, is a member of the immunoglobulin superfamily, can bind the leukocyte integrins LFA-1 (CD11a/CD18) and αd/β2. ICAM?3 is expressed on leukocytes and epidermal Langerhans cells. ICAM-3 is a transmembrane glycoprotein expressed by leukocytes, that serves as a counter-receptor for the lymphocyte function-associated antigen (LFA)-1 integrin. Besides functioning as an adhesive molecule that mediates e.g. the contact between T cells and antigen presenting cells, ICAM-3 regulates affinity of LFA-1 for ICAM-1 and induces T cell activation and proliferation. ICAM-3 plays an essential role in the initiation of the immune response both on T cells and antigen presenting cells.CD50 molecule can play a role in developing functionally mature T lymphocytes and its expression increases during the maturation process of T lymphocytes.