---
Product Details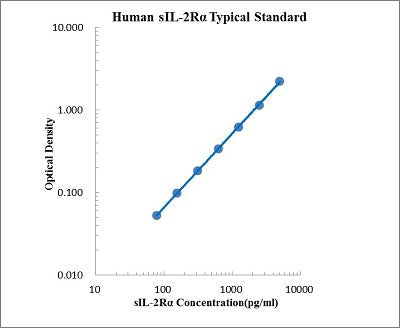 Brand
MultiSciences
CatNum
70-EK191
Product Name
Human sIL-2R alpha/CD25 ELISA Kit
Customs Name
Human sIL-2R alpha/CD25 ELISA Kit
Application
ELISA
Reactivity
Human
Assay Type
Sandwich ELISA
Suitable Sample Type
serum, plasma, cell culture supernates
Format
96-well strip plate
Storage
4℃ (unopened) standard stored at -20℃, others stored at 4℃ (opened)
Shipping Condition
4℃
Sample Volume
50 μl
Sensitivity
2.99 pg/ml
Standard Curve Range
78.13 - 5000 pg/ml
Spike Recovery Range
93 % - 112 %
Mean Spike Recovery
1.02
CV of Intra plate
4.8 % - 7.5 %
CV of Inter plate
4.4 % - 7.9 %
Components
96-well polystyrene microplate coated with a monoclonal antibody against sIL-2Rα
Human sIL-2Rα Standard, lyophilized
sIL-2Rα Detect Antibody
Standard Diluent
Streptavidin-HRP
Assay Buffer (10×)
Substrate (TMB)
Stop Solution
washing Buffer (20×)
Plate Covers
Describtion
This assay employs the quantitative sandwich enzyme immunoassay technique for the quantitative detection of human sIL-2Rα/CD25. The Human sIL-2Rα/CD25 ELISA is for research use only. Not for diagnostic or therapeutic procedures.
The interleukin-2 receptor (IL-2R) is a heterotrimeric protein expressed on the surface of certain immune cells, such as lymphocytes, that binds and responds to a cytokine called IL-2. IL-2R is consist of three chains, an alpha chain (IL-2Rα, CD25), a beta chain (IL-2Rβ, CD122) and a gamma chain (IL-2Rγ, CD132). The α chain binds IL-2 with low affinity, the combination of β and γ together form a complex that binds IL-2 with intermediate affinity, primarily on memory T cells and NK cells. A model of the IL-2R complex would describe the high affinity receptor as an αβγ trimer, in which all three chains are in contact with the ligand. IL-2 and its receptor have key roles in key functions of the immune system, tolerance and immunity, primarily via their direct effects on T cells. But the function of the soluble IL-2 Rα (sIL-2Rα) is unclear, since it would be expected to be a poor inhibitor of IL-2 because of its low binding affinity. In any case, increased levels of the sIL-2Rα in biological fluids reportedly correlate with increased T and B cell activation and immune system activation.
Monitoring of sIL-2Rα levels in serum provides more detailed insights in several pathological situations such as rheumatoid arthritis, systemic lupus erythematosis (SLE), some leukemias and lymphomas.