---
Product Details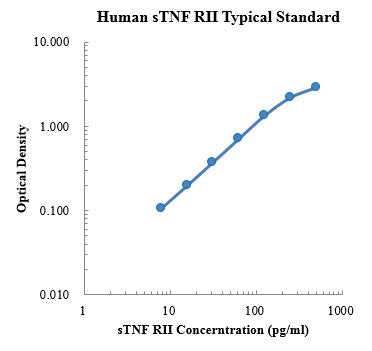 Brand
MultiSciences
CatNum
70-EK1123
Product Name
Human sTNF RII/TNFRSF1B ELISA Kit
Customs Name
Human sTNF RII/TNFRSF1B ELISA Kit
Application
ELISA
Reactivity
Human
Assay Type
Sandwich ELISA
Suitable Sample Type
serum, plasma, cell culture supernates
Format
96-well strip plate
Storage
4℃ (unopened)standard stored at -20℃, others stored at 4℃ (opened)
Shipping Condition
4℃
Sample Volume
100 μl (prediluted)
Sensitivity
0.08 pg/ml
Standard Curve Range
7.81 - 500 pg/ml
Spike Recovery Range
103 % - 118 %
Mean Spike Recovery
1.13
CV of Intra plate
2.4 % - 5.4 %
CV of Inter plate
2.4 % - 4.3 %
Release Date
2015/11/26
Components
96-well polystyrene microplate coated with a monoclonal antibody against sTNF RII
Human sTNF RII Standard, lyophilized
sTNF RII Detect Antibody
Standard Diluent
Streptavidin-HRP
Assay Buffer (10×)
Substrate (TMB)
Stop Solution
Washing Buffer (20×)
Plate Covers
Describtion
This assay employs the quantitative sandwich enzyme immunoassay technique for the quantitative detection of human sTNF RII. The Human sTNF RII/TNFRSF1B is for research use only. Not for diagnostic or therapeutic procedures.
Tumor necrosis factor receptor II (TNFRII), also known as tumor necrosis factor receptor superfamily member 1B (TNFRSF1B), is a membrane receptor that binds tumor necrosis factor-alpha (TNF-α). This protein and TNF-receptor I form a heterocomplex that mediates the recruitment of two anti-apoptotic proteins, c-IAP1 and c-IAP2, which possess E3 ubiquitin ligase activity. The function of IAPs in TNF - receptor signalling is unknown, however, c-IAP1 is thoughtto potentiate TNF-induced apoptosis by the ubiquitination and degradation of TNF- receptor - associated factor 2 (TRAF2), which mediates anti-apoptotic signals. Knockout studies in mice also suggest a role of this protein in protecting neurons from apoptosis by stimulating antioxidative pathways.