---
Product Details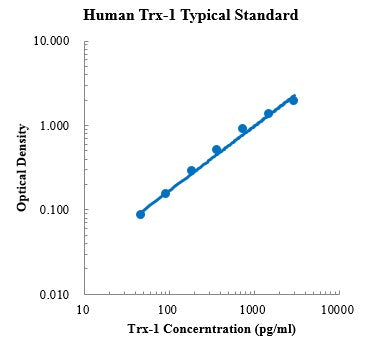 Brand
MultiSciences
CatNum
70-EK1222
Product Name
Human Thioredoxin-1/Trx-1 ELISA Kit
Customs Name
Human Thioredoxin-1/Trx-1 ELISA Kit
Application
ELISA
Reactivity
Human
Assay Type
Sandwich ELISA
Suitable Sample Type
serum, plasma, cell culture supernates
Format
96-well strip plate
Storage
4℃ (unopened) standard stored at -20℃, others stored at 4℃ (opened)
Shipping Condition
4℃
Sample Volume
100 μl (prediluted)
Sensitivity
3.92 pg/ml
Standard Curve Range
46.88 - 3000 pg/ml
Spike Recovery Range
81%-110%

Mean Spike Recovery
100%

CV of Intra plate
3.9% - 4.9%
CV of Inter plate
4.9% - 5.0%
Components
96-well polystyrene microplate coated with a monoclonal antibody against Trx-1
Human Trx-1 Standard, lyophilized
Trx-1 Detect Antibody
Streptavidin-HRP
Assay Buffer (10×)
Substrate (TMB)
Stop Solution
Washing Buffer (20×)
Plate Covers
Describtion
This assay employs the quantitative sandwich enzyme immunoassay technique for the quantitative detection of human Trx-1. The Human Thioredoxin-1/Trx-1 ELISA is for research use only. Not for diagnostic or therapeutic procedures.
Thioredoxins (Trxs) are a group of small ubiquitous proteins in all living cells that are key regulators of cellular redox balance. The mammalian Trx family has three members: Trx-1, Trx-2, and TrxL. Trx-1 is the only extracellular occurring thioredoxin, and is secreted by lymphocytes, hepatocytes, fibroblasts, and several tumor cells. Plasma concentrations of Trx-1 are up to 6 nM. In cells, Trx-1 is localized predominantly in the cytoplasm. Small amounts have been detected in the nucleus and in association with the outside surface of the cells. Expression of Trx-1 is increased under various stress conditions such as hypoxia, elevated hydrogen peroxide concentrations, photochemical oxidative stress, and viral and bacterial infections. Biological functions of Trx-1 include growth factor activity, antioxidant properties, a cofactor that provides reducing equivalents, and transcriptional regulation. The synovial tissue of rheumatoid arthritis patients produces increased levels of Trx-1 under oxidative stress conditions, and a correlation exists between the plasma levels of Trx-1 and the severity of the disease, making Trx-1 a biomarker for this pathological condition.