---
Product Details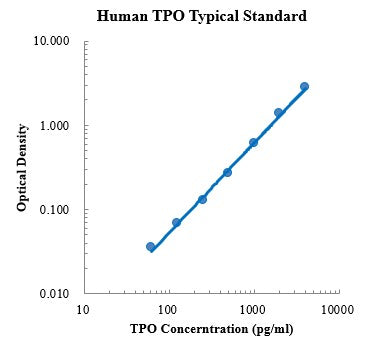 Brand

MultiSciences

CatNum

70-EK1152

Product Name

Human Thrombopoietin/TPO ELISA Kit

Customs Name

Human Thrombopoietin/TPO ELISA Kit

Application

ELISA

Reactivity

Human

Assay Type

Sandwich ELISA

Suitable Sample Type

serum, plasma, cell culture supernates

Format

96-well strip plate

Storage

4℃ (unopened) standard stored at -20℃, others stored at 4℃ (opened)

Shipping Condition

4℃

Sample Volume

50 μl

Sensitivity

11.32 pg/ml

Standard Curve Range

62.50 - 4000 pg/ml

Spike Recovery Range

72 % - 124 %

Mean Spike Recovery

0.97

CV of Intra plate

2.6 % - 6.4 %

CV of Inter plate

2.3 % - 5.4 %

Components

96-well polystyrene microplate coated with a monoclonal antibody against TPO

Human TPO Standard, lyophilized

TPO Detect Antibody

Standard Diluent

Streptavidin-HRP

Assay Buffer (10×)

Substrate (TMB)

Stop Solution

Washing Buffer (20×)

Plate Covers

Describtion

This assay employs the quantitative sandwich enzyme immunoassay technique for the quantitative detection of human TPO. The Human Thrombopoietin/TPO ELISA is for research use only. Not for diagnostic or therapeutic procedures.

Thrombopoietin (TPO) also known as megakaryocyte growth and development factor (MGDF) is a glycoprotein hormone produced in the liver by both parenchymal cells and sinusoidal endothelial cells, in the kidney by proximal convoluted tubule cells. Small amounts are also made by striated muscle and bone marrow stromal cells. It stimulates the production and differentiation of megakaryocytes, the bone marrow cells that bud off large numbers of platelets. Circulating TPO has been measured in both normal and pathophysiological conditions, including idiopathic thrombocytopenia purpura (ITP), essential thrombocythemia (ET), liver cirrhosis, amegakaryocytic thrombocytopenia (AMT), and aplastic anemia (AA). While TPO levels may be regulated by megakaryocyte counts, and platelets may play a role in regulating plasma TPO levels, there does not seem to be a direct correlation between platelet count and blood TPO levels.