---
Product Details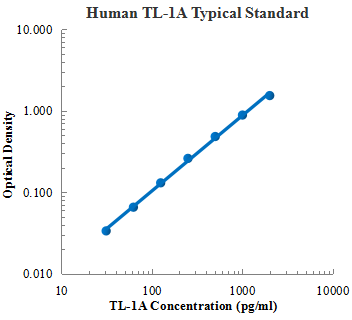 Factory Name
MultiSciences
Product Code
70-EK1268-96
CatNum
EK1268-96
Product Name
Human TL-1A/TNFSF15 ELISA Kit
Customs Name
Human TL-1A/TNFSF15 ELISA Kit
Product Spec
96T
SalePrice
2500
Type
ELISA Kit
Application
ELISA
Reactivity
Human
Modality
NoData
Assay Type
Sandwich ELISA
Suitable Sample Type
serum, plasma, cell culture supernates
Format
96-well strip plate
Storage
4℃ (unopened) standard stored at -20℃, others stored at 4℃ (opened)
Shipping Condition
4℃
Sensitivity
3.09 pg/ml
Standard Curve Range
31.25-2000 pg/ml
Spike Recovery Range
86%-97%
Mean Spike Recovery
90%
CV of Intra plate
4.1 % - 4.9 %
CV of Inter plate
2.7% - 5.6%
Components

96-well polystyrene microplate (12 strips of 8 wells) coated with a monoclonal antibody against human TL-1A

Human TL-1A Standard, lyophilized

TL-1A Detect Antibody

Standard Diluent

Streptavidin-HRP

Assay Buffer (10×)

Substrate (TMB)

Stop Solution

Washing Buffer (20×)

Adhesive Films 

Describtion

This assay employs the quantitative sandwich enzyme immunoassay technique for the quantitative detection of human β-NGF. The Human  β-NGF ELISA is for research use only. Not for diagnostic or therapeutic procedures.                  Tumor necrosis factor-like ligand 1A (TL1A), also called TNFSF15, is a member of the TNF superfamily. It is a homotrimeric 251 amino acid cytokine expressed from the TNFSF15 gene located at locus 9q32 on chromosome 9. The expression of this protein is inducible by TNF and IL-1 alpha. This protein is abundantly expressed in endothelial cells, but is not expressed in either B or T cells. This cytokine is a ligand for receptor TNFRSF25 and decoy receptor TNFRSF21/DR6. It can activate NF-kappaB and MAP kinases, and acts as an autocrine factor to induce apoptosis in endothelial cells. This cytokine is also found to inhibit endothelial cell proliferation, and thus may function as an angiogenesis inhibitor.