---
Product Details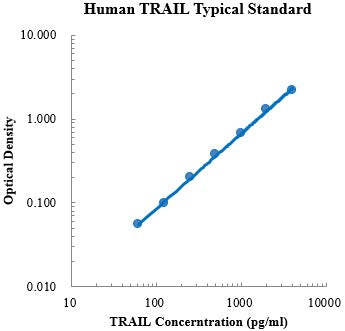 Brand

MultiSciences

Cat Num

70-EK1161

Product Name

Human TRAIL/TNFSF10 ELISA Kit

Customs Name

Human TRAIL/TNFSF10 ELISA Kit

Application

ELISA

Reactivity

Human

Assay Type

Sandwich ELISA

Suitable Sample Type

serum, plasma, cell culture supernates

Format

96-well strip plate

Storage

4℃ (unopened)standard stored at -20℃, others stored at 4℃ (opened)

Shipping Condition

4℃

Sample Volume

20 μl

Sensitivity

8.19 pg/ml

Standard Curve Range

62.50 - 4000 pg/ml

Spike Recovery Range

77 % - 120 %

Mean Spike Recovery

0.97

CV of Intra plate

6.6 % - 8.3 %

CV of Inter plate

4.8 % - 6.4 %

Components

96-well polystyrene microplate coated with a monoclonal antibody against TRAIL
Human TRAIL Standard, lyophilized
TRAIL Detect Antibody
Standard Diluent
Streptavidin-HRP
Assay Buffer (10×)
Substrate (TMB)
Stop Solution
Washing Buffer (20×)
Plate Covers

Describtion

This assay employs the quantitative sandwich enzyme immunoassay technique for the quantitative detection of human TRAIL. The Human TRAIL/TNFSF10 ELISA is for research use only. Not for diagnostic or therapeutic procedures.
TNF-related apoptosis-inducing ligand (TRAIL) also known as CD253 or TNFSF10, is a cytokine that is produced and secreted by most normal tissue cells. TRAIL binds to the death receptors DR4 (TRAIL-RI) and DR5 (TRAIL-RII). The process of apoptosis is caspase-8-dependent. Caspase-8 activates downstream effector caspases including procaspase-3, -6, and -7, leading to activation of specific kinases. TRAIL also binds the receptors DcR1 and DcR2, which do not contain a cytoplasmic domain (DcR1) or contain a truncated death domain (DcR2). DcR1 functions as a TRAIL-neutralizing decoy-receptor. The cytoplasmic domain of DcR2 is functional and activates NF-κB. In cells expressing DcR2, TRAIL binding therefore activates NF-κB, leading to transcription of genes known to antagonize the death signaling pathway and/or to promote inflammation.