---
Product Details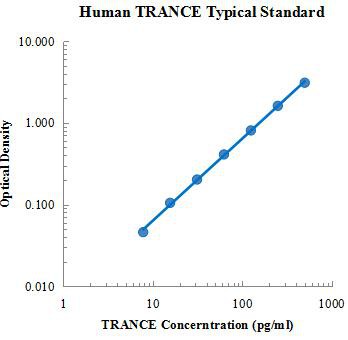 Factory Name
MultiSciences
Product Code
EK1208-96
CatNum
EK1208-96
Product Name
Human TRANCE/TNFSF11/RANKL ELISA Kit
Customs Name
Human TRANCE/TNFSF11/RANKL ELISA Kit
Product Spec
96 T
SalePrice
2500
Application
ELISA
Reactivity
Human
LinkRemark
http://www.liankebio.com/Web2004V2/datasheet/lianke/EK1208.pdf
SDS
SDS - EK1208
Assay Type
Sandwich ELISA
Suitable Sample Type
serum, plasma, cell culture supernates
Format
96-well strip plate
Storage
4℃ (unopened)standard stored at -20℃, others stored at 4℃ (opened)
Shipping Condition
4℃
Sample Volume
50 μl
Sensitivity
0.75 pg/ml
Standard Curve Range
7.81 - 500 pg/ml
Spike Recovery Range
80 % -102 %
Mean Spike Recovery
91%
CV of Intra plate
4.2% -4.8%
CV of Inter plate
3.7% - 10.1%
Components
96-well polystyrene microplate coated with a monoclonal antibody against TRANCE
Human TRANCE Standard, lyophilized
TRANCE Detect Antibody
Standard Diluent
Streptavidin-HRP
Assay Buffer (10×)
Substrate (TMB)
Stop Solution
Washing Buffer (20×)
Plate Covers
Describtion
This assay employs the quantitative sandwich enzyme immunoassay technique for the quantitative detection of human TRANCE. The Human TRANCE ELISA is for research use only. Not for diagnostic or therapeutic procedures.
TNF-related activation-induced cytokine (TRANCE), also known as tumor necrosis factor ligand superfamily member 11 (TNFSF11), receptor activator of nuclear factor kappa-B ligand (RANKL), is a member of the TNF superfamily. Cells known to express TRANCE include osteoblasts, CD4+ and CD8+ T cells, megakaryocytes, bronchial and intestinal epithelium and so on.
TRANCE appears to play a central role in both immune response and bone morphogenesis. During bone development and remodeling, TRANCE expression by osteoblasts in conjunction with M-CSF induces osteoclast formation and activation, resulting in bone resorption. This allows for subsequent bone deposition and remodeling. TRANCE also plays a role in pathological osteoporosis. Its inappropriate expression by activated lymphocytes and osteoblasts results in excessive joint and bone resorption vs. deposition. Overproduction of TRANCE is implicated in a variety of degenerative bone diseases, such as rheumatoid arthritis and psoriatic arthritis.