---
Product Details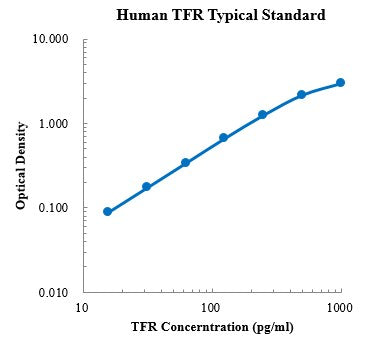 Brand

MultiSciences

CatNum

70-EK1146

Product Name

Human Transferrin Receptor/TFR ELISA Kit

Customs Name

Human Transferrin Receptor/TFR ELISA Kit

Application

ELISA

Reactivity

Human

Assay Type

Sandwich ELISA

Suitable Sample Type

serum, plasma, cell culture supernates

Format

96-well strip plate

Storage

4℃ (unopened) standard stored at -20℃, others stored at 4℃ (opened)

Shipping Condition

4℃

Sample Volume

100 μl

Sensitivity

0.09 pg/ml

Standard Curve Range

15.63 - 1000 pg/ml

Spike Recovery Range

90%-110%


Mean Spike Recovery

98%

CV of Intra plate

1.6 % - 2.2 %

CV of Inter plate

2.3 % - 3.2 %

Components

96-well polystyrene microplate coated with a monoclonal antibody against TFR

Human TFR Standard, lyophilized

TFR Detect Antibody

Streptavidin-HRP

Assay Buffer (10×)

Substrate (TMB)

Stop Solution

Washing Buffer (20×)

Plate Covers

Describtion

This assay employs the quantitative sandwich enzyme immunoassay technique for the quantitative detection of human TFR. The Human Transferrin Receptor/TFR ELISA is for research use only. Not for diagnostic or therapeutic procedures.

Transferrin receptor (TFR) is a carrier protein for transferrin. It is needed for the import of iron into the cell and is regulated in response to intracellular iron concentration. It imports iron by internalizing the transferrin-iron complex through receptor-mediated endocytosis. Soluble Transferrin Receptor (sTFR) arises from proteolysis of TFR at a specific site in the extracellular domain, leading to monomers that can be measured in plasma and serum. A constant relationship has been reported between total TFR and the concentration of sTFR in plasma or serum. Thus, the concentration of sTFR in plasma or serum is an indirect measure of total TFR.

sTFR is elevated in subjects with hyperplastic erythropoiesis (e.g., hemolytic anemia, β-thalassemia, polycythemia, etc.) and depressed in subjects with hypoplastic erythropoiesis (e.g., chronic renal failure, aplastic anemia or post-transplant anemia). Measurement of sTFR is especially valuable as an indication of iron deficiency in individuals with chronic disease (inflammatory diseases, infections, malignancies), many of whom are anemic. Since the level of sTFR is not affected by chronic disease, it can substantially improve the laboratory diagnosis of iron deficiency, even in patients with concurrent chronic disease.