---
Product Details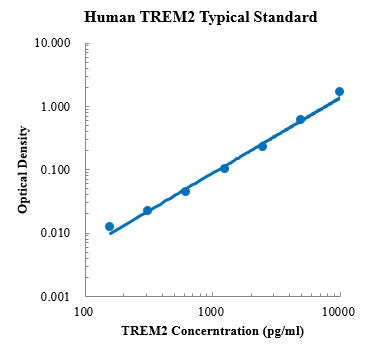 Brand
MultiSciences
CatNum
70-EK1226
Product Name
Human TREM2 ELISA Kit
Customs Name
Human TREM2 ELISA Kit
Application
ELISA
Reactivity
Human
Assay Type
Sandwich ELISA
Suitable Sample Type
serum, plasma, cell culture supernates
Format
96-well strip plate
Storage
4℃ (unopened)standard stored at -20℃, others stored at 4℃ (opened)
Shipping Condition
4℃
Sample Volume
50 μl
Sensitivity
15.93 pg/ml
Standard Curve Range
156.25 - 10000 pg/ml
Spike Recovery Range
22% % - 122 %
Mean Spike Recovery
0.88
CV of Intra plate
2.6 % - 6.0 %
CV of Inter plate
3.5 % - 7.9 %
Components
96-well polystyrene microplate coated with a monoclonal antibody against TREM2
Human TREM2 Standard, lyophilized
TREM2 Detect Antibody
Standard Diluent
Assay Buffer (10×)
Substrate (TMB)
Stop Solution
Washing Buffer (20×)
Plate Covers
Describtion
This assay employs the quantitative sandwich enzyme immunoassay technique for the quantitative detection of human TREM2. The Human TREM2 ELISA is for research use only. Not for diagnostic or therapeutic procedures.
Triggering receptor expressed on myeloid cells 2 (TREM2) is a single Ig domain receptor expressed on macrophages and dendritic cells but not on granulocytes or monocytes. Its expression is most abundant in the basal ganglia, corpus callosum, medulla oblongata and spinal cord, and microglial cells are the major TREM2-producing cell type in the central nervous system. TREM2 may play a role in chronic inflammations and may stimulate production of constitutive rather than inflammatory chemokines and cytokines. TREM2 forms a receptor signaling complex with TYROBP and triggers activation of the immune responses in macrophages and dendritic cells. It also associates with the adapter protein DAP12 to deliver an activating signal that plays a role in both innate and adaptive immune responses. TREM2 signaling is also an important pathway to promote healing of wounds in the colon. TREM2 mutations increase the risk of neurodegenerative conditions such as Alzheimer's disease, amyotrophic lateral sclerosis, and Parkinson's disease.