---
Product Details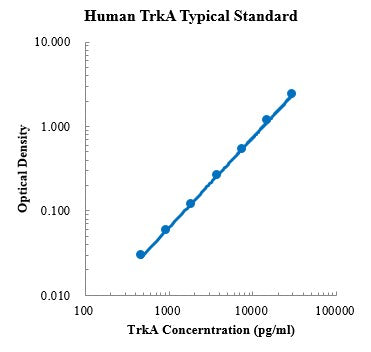 Brand
MultiSciences
CatNum
70-EK1248
Product Name
Human TrkA/NTRK1 ELISA Kit
Customs Name
Human TrkA/NTRK1 ELISA Kit
Application
ELISA
Reactivity
Human
Assay Type
Sandwich ELISA
Suitable Sample Type
serum, plasma, cell culture supernates
Format
96-well strip plate
Storage
4℃ (unopened) standard stored at -20℃, others stored at 4℃ (opened)
Shipping Condition
4℃
Sample Volume
20 μl
Sensitivity
24.12 pg/ml
Standard Curve Range
468.75 - 30000 pg/ml
Spike Recovery Range
83% - 117%
Mean Spike Recovery
0.96
CV of Intra plate
3.3% - 4.9%
CV of Inter plate
2.2% - 4.0%
Components
96-well polystyrene microplate coated with a monoclonal antibody against TrkA
Human TrkA Standard, lyophilized
TrkA Detect Antibody
Standard Diluent
Assay Buffer (10×)
Substrate (TMB)
Stop Solution
Washing Buffer (20×)
Plate Covers
Describtion
This assay employs the quantitative sandwich enzyme immunoassay technique for the quantitative detection of human TrkA. The Human TrkA/NTRK1 ELISA is for research use only. Not for diagnostic or therapeutic procedures.
Tropomyosin receptor kinase A (TrkA), also known as neurotrophic tyrosine kinase receptor type 1 (NTRK1), is a member of the neurotrophic tyrosine kinase receptor (NTKR) family. This kinase is a membrane-bound receptor that, upon neurotrophin binding, phosphorylates itself and members of the MAPK pathway. TrkA mediates the multiple effects of nerve growth factor, which include neuronal differentiation and avoidance of programmed cell death. The presence of TrkA leads to cell differentiation and may play a role in specifying sensory neuron subtypes. Mutations in this gene have been associated with congenital insensitivity to pain with anhidrosis, self-mutilating behavior, mental retardation and cancer. TrkA has a crucial role in the development and function of the nociceptive reception system as well as establishment of thermal regulation via sweating. It also activates ERK1 by either SHC1- or PLC-gamma-1-dependent signaling pathway. Defects in TrkA are a cause of congenital insensitivity to pain with anhidrosis and thyroid papillary carcinoma.