---
Product Details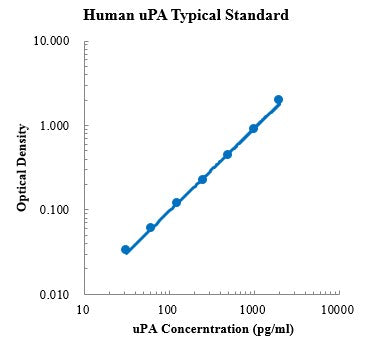 Brand
MultiSciences
CatNum
70-EK1239
Product Name
Human Urokinase/uPA ELISA Kit
Customs Name
Human Urokinase/uPA ELISA Kit
Application
ELISA
Reactivity
Human
Assay Type
Sandwich ELISA
Suitable Sample Type
serum, plasma, cell culture supernates
Format
96-well strip plate
Storage
4℃ (unopened) standard stored at -20℃, others stored at 4℃ (opened)
Shipping Condition
4℃
Sample Volume
50 μl
Sensitivity
3.15 pg/ml
Standard Curve Range
31.25 - 2000 pg/ml
Spike Recovery Range
78 % - 118 %
Mean Spike Recovery
0.83
CV of Intra plate
4.6 % - 5.9 %
CV of Inter plate
1.5 % - 5.2 %
Components
96-well polystyrene microplate coated with a monoclonal antibody against uPA
Human uPA Standard, lyophilized
uPA Detect Antibody
Assay Buffer (10×)
Substrate (TMB)
Stop Solution
Washing Buffer (20×)
Plate Covers
Describtion
This assay employs the quantitative sandwich enzyme immunoassay technique for the quantitative detection of human uPA. The Human Urokinase/uPA ELISA is for research use only. Not for diagnostic or therapeutic procedures.
Urokinase, also called urokinase-type plasminogen activator (uPA), is a serine protease involved in degradation of the extracellular matrix and possibly tumor cell migration and proliferation. uPA was originally isolated from human urine, but is present in several physiological locations, such as blood stream and the extracellular matrix. The most important inhibitors of uPA are PAI-1 and PAI-2, which inhibit the protease activity irreversibly. In the extracellular matrix, uPA is tethered to the cell membrane by its interaction to the urokinase receptor.
Elevated expression levels of uPA and several other components of the plasminogen activation system are found to be correlated with tumor malignancy. uPA is a potent marker of invasion and metastasis in a variety of human cancers associated with breast, stomach, colon, bladder, ovary, brain and endometrium. A specific polymorphism in uPA gene is implicated in late-onset Alzheimer disease and also with decreased affinity for fibrin-binding. uPA is used clinically as a thrombolytic agent in the treatment of severe or massive deep venous thrombosis, pulmonary embolism, myocardial infarction, and occluded intravenous or dialysis cannulas. It is also administered intrapleurally to improve the drainage of complicated pleural effusions and empyemas.