---
Product Details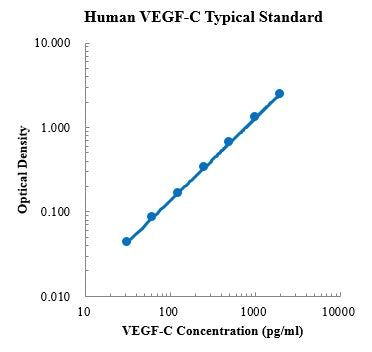 Factory Name

MultiSciences

CatNum

EK1154

Product Name

Human VEGF-C ELISA Kit

Customs Name

Human VEGF-C ELISA Kit

Product Spec

96T

Application

ELISA

Reactivity

Human

SDS

SDS - EK1154

Assay Type

Sandwich ELISA

Suitable Sample Type

serum, plasma, cell culture supernates

Format

96-well strip plate

Storage

4℃ (unopened)standard stored at -20℃, others stored at 4℃ (opened)

Shipping Condition

4℃

Sample Volume

100 μl (prediluted)

Sensitivity

4.24 pg/ml

Standard Curve Range

31.25 - 2000 pg/ml

Spike Recovery Range

80%-119%


Mean Spike Recovery

96%

CV of Intra plate

3.6 % - 7.0 %

CV of Inter plate

3.3 % - 6.5%

Components

96-well polystyrene microplate coated with a monoclonal antibody against VEGF-C
Human VEGF-C Standard, lyophilized
VEGF-C Detect Antibody
Standard Diluent
Streptavidin-HRP
Assay Buffer (10×)
Substrate (TMB)
Stop Solution
Washing Buffer (20×)
Plate Covers

Describtion

This assay employs the quantitative sandwich enzyme immunoassay technique for the quantitative detection of human VEGF-C. The Human VEGF-C ELISA is for research use only. Not for diagnostic or therapeutic procedures.
Vascular endothelial growth factor C (VEGF-C) is a dimeric, secreted protein that is a member of PDGF/VEGF family. After translation, VEGF-C consists of three domains: the central VEGF homology domain (VHD), the N-terminal domain (propeptide) and a C-terminal domain (propeptide). The main function of VEGF-C is in lymphangiogenesis, where it acts on lymphatic endothelial cells (LECs) primarily via its receptor VEGFR-3 promoting survival, growth and migration. It was shown to be a specific growth factor for lymphatic vessels in a variety of models. However, in addition to its effect on lymphatic vessels, it can also promote the growth of blood vessels and regulate their permeability. The effect on blood vessels can be mediated via its primary receptor VEGFR-3 or its secondary receptor VEGFR-2. Apart from vascular targets, VEGF-C is also important for neural development and blood pressure regulation.
While a lack of VEGF-C results in lymphedema, too much VEGF-C is implicated in tumor angiogenesis and metastasis.