---
Product Details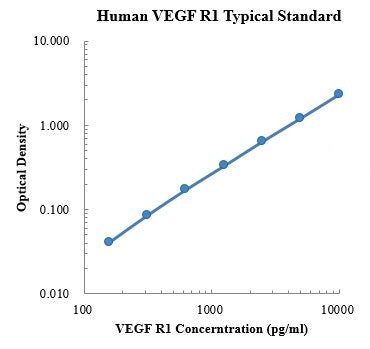 Brand
MultiSciences
CatNum
70-EK1117
Product Name
Human VEGF R1/Flt-1 ELISA Kit
Customs Name
Human VEGF R1/Flt-1 ELISA Kit
Application
ELISA
Reactivity
Human
Assay Type
Sandwich ELISA
Suitable Sample Type
serum, plasma, cell culture supernates
Format
96-well strip plate
Storage
4℃ (unopened) standard stored at -20℃, others stored at 4℃ (opened)
Shipping Condition
4℃
Sample Volume
20 μl
Sensitivity
6.99 pg/ml
Standard Curve Range
156.25 - 10000 pg/ml
Spike Recovery Range
96 % - 114 %
Mean Spike Recovery
0.99
CV of Intra plate
4.6 % - 5.5 %
CV of Inter plate
2.9 % - 4.6 %
Components
96-well polystyrene microplate coated with a monoclonal antibody against VEGF R1
Human VEGF R1 Standard, lyophilized
VEGF R1 Detect Antibody
Standard Diluent
Streptavidin-HRP
Assay Buffer (10×)
Substrate (TMB)
Stop Solution
Washing Buffer (20×)
Plate Covers
Describtion
This assay employs the quantitative sandwich enzyme immunoassay technique for the quantitative detection of human VEGF R1. The Human VEGF R1/Flt-1 ELISA is for research use only. Not for diagnostic or therapeutic procedures.


Vascular endothelial growth factor receptor-1 (VEGF R1), also known as Flt-1, is a receptor tyrosine kinase (RTK) specific for the angiogenic factors VEGF (VEGF-A), PlGF, and VEGF-B. There are two forms: membrane - bound (mbVEGFR) and soluble (sVEGFR), depending on alternative splicing.

Experimental and clinical administrations of sVEGF R1 have been employed successfully in the prevention of neovasculogenesis and tumor growth. The serum/plasma level of sVEGF R1 may vary by pathology, and may have prognostic value. It has been suggested that sVEGF R1 levels should be presented alongside VEGF levels in experimental and pathological conditions. High levels of sVEGF R1 reportedly occur in the plasma during pregnancy and in patients with essential hypertension. Significantly lower levels have been observed in the plasma of patientswith cardiovascular disease and in smokers.