---
Product Details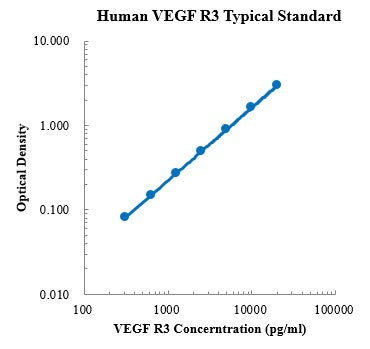 Brand

MultiSciences

Cat Num

70-EK1197

Product Name

Human VEGF R3/Flt-4 ELISA Kit

Customs Name

Human VEGF R3/Flt-4 ELISA Kit

Application

ELISA

Reactivity

Human

Assay Type

Sandwich ELISA

Suitable Sample Type

serum, plasma, cell culture supernates

Format

96-well strip plate

Storage

4℃ (unopened)standard stored at -20℃, others stored at 4℃ (opened)

Shipping Condition

4℃

Sample Volume

100μl

Sensitivity

15.35 pg/ml

Standard Curve Range

312.50 - 20000 pg/ml

Spike Recovery Range

79 % -110 %

Mean Spike Recovery

0.95

CV of Intra plate

4.3 % - 9.0 %

CV of Inter plate

7.2 % - 10.7 %

Components

96-well polystyrene microplate coated with a monoclonal antibody against VEGF R3
Human VEGF R3 Standard, lyophilized
VEGF R3 Detect Antibody
Assay Buffer (10×)
Substrate (TMB)
Stop Solution
Washing Buffer (20×)
Plate Covers

Describtion

This assay employs the quantitative sandwich enzyme immunoassay technique for the quantitative detection of human VEGF R3. The Human VEGF R3/Flt-4 ELISA is for research use only. Not for diagnostic or therapeutic procedures.
Vascular endothelial growth factor receptor 3 (VEGF R3), also known as Flt-4, is a tyrosine kinase receptor for VEGF-C and VEGF-D. The protein is thought to be involved in lymphangiogenesis and maintenance of the lymphatic endothelium. In lymphoma patients, high expression of VEGF R3 can been found in lymph endothelial cells isolated from the tumor tissue.
Mutations in this gene cause hereditary lymphedema type IA. Several studies have shown positive correlations between VEGF-C, VEGF-D and VEGF R3 expression and vascular invasion, lymphatic vessel and lymph node involvement. The VEGF-C/VEGF-D/VEGFR3 signaling pathway may provide a target for antilymphangiogenic therapy in prostate cancer, breast cancer, gastric cancer, lung cancer, non-small cell lung cancer, and so on.