---
Product Details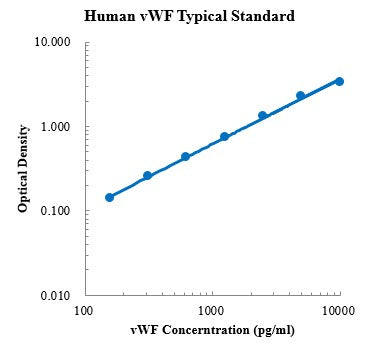 Brand
MultiSciences
CatNum
70-EK192
Product Name
Human von Willebrand Factor ELISA Kit
Customs Name
Human von Willebrand Factor ELISA Kit
Application
ELISA
Reactivity
Human
Assay Type
Sandwich ELISA
Suitable Sample Type
serum, plasma, cell culture supernates
Format
96-well strip plate
Storage
4℃ (unopened) standard stored at -20℃, others stored at 4℃ (opened)
Shipping Condition
4℃
Sample Volume
100μl (Prediluted)
Sensitivity
0.47 pg/ml
Standard Curve Range
156.25 - 10000 pg/ml
Spike Recovery Range
92 % - 110 %
Mean Spike Recovery
1.01
CV of Intra plate
3.7 % - 5.5 %
CV of Inter plate
2.4 % - 6.1 %
Components
96-well polystyrene microplate coated with a monoclonal antibody against vWF
Human vWF Standard, lyophilized
vWF Detect Antibody
Streptavidin-HRP
Assay Buffer (10×)
Substrate (TMB)
Stop Solution
washing Buffer (20×)
Plate Covers
Describtion
This assay employs the quantitative sandwich enzyme immunoassay technique for the quantitative detection of human vWF. The Human vWF ELISA is for research use only. Not for diagnostic or therapeutic procedures.
Von Willebrand factor (vWF) is a blood multimeric glycoprotein present in blood plasma and produced constitutively as ultra-large vWF in endothelium (in the Weibel-Palade bodies), megakaryocytes (α-granules of platelets), and subendothelial connective tissue. Multimers of vWF can be extremely large, >20,000 kDa, and consist of over 80 subunits of 250 kDa each. Every monomer of vWF contains a number of specific domains with a specific function, elements of note are D'/D3 domain, A1 domain, A3 domain, C1 domain and the "cysteine knot" domain. The primary function of vWF is binding to other proteins, in particular factor VIII, and it is important in platelet adhesion to wound sites. vWF plays a major role in blood coagulation. Therefore, vWF deficiency or dysfunction (von Willebrand disease) leads to a bleeding tendency, which is most apparent in tissues having high blood flow shear in narrow vessels. Monitoring of vWF levels in serum provides more detailed insights in several pathological situations such as thrombotic thrombocytopenic purpura, Heyde's syndrome, and possibly hemolytic-uremic syndrome.