---
Product Details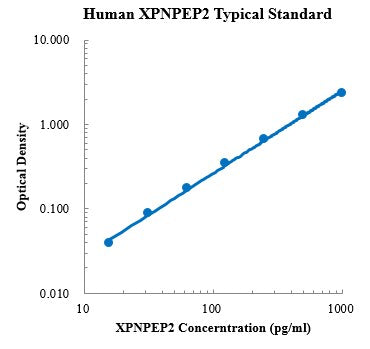 Brand
MultiSciences
CatNum
70-EK1234
Product Name
Human XPNPEP2 ELISA Kit
Customs Name
Human XPNPEP2 ELISA Kit
Application
ELISA
Reactivity
Human
Assay Type
Sandwich ELISA
Suitable Sample Type
serum, plasma, cell culture supernates
Format
96-well strip plate
Storage
4℃ (unopened) standard stored at -20℃, others stored at 4℃ (opened)
Shipping Condition
4℃
Sample Volume
20 μl (prediluted)
Sensitivity
0.54 pg/ml
Standard Curve Range
15.63 - 1000 pg/ml
Spike Recovery Range
89%-109%

Mean Spike Recovery
97%

CV of Intra plate
1.3 % - 1.8 %
CV of Inter plate
1.9 % - 3.9 %
Components
96-well polystyrene microplate coated with a monoclonal antibody against XPNPEP2
Human XPNPEP2 Standard, lyophilized
XPNPEP2 Detect Antibody
Assay Buffer (10×)
Substrate (TMB)
Stop Solution
Washing Buffer (20×)
Plate Covers
Describtion
This assay employs the quantitative sandwich enzyme immunoassay technique for the quantitative detection of human XPNPEP2. The Human XPNPEP2 ELISA is for research use only. Not for diagnostic or therapeutic procedures.
The membrane-bound X-prolyl aminopeptidase 2, also known as XPNPEP2, belongs to the peptidase M24B family, and has been reported to associate with Aminopeptidase P (APP) activity. The C-2399A variant in XPNPEP2 is associated with reduced APP activity and a higher incidence of AE-ACEi. APP is a hydrolase specific for N-terminal imido bonds, which are common to several collagen degradation products, neuropeptides, vasoactive peptides, and cytokines. A membrane-bound and soluble form of this enzyme (XPNPEP2) have been identified as products of two separate genes. The translocation disrupts XPNPEP2, which encodes an XaaPro aminopeptidase that hydrolyzes N-terminal Xaa-Pro bonds. XPNPEP2 mRNA was detected in fibroblasts that carry the translocation, suggesting that this gene at least partially escapes X inactivation. XPNPEP2 is a candidate gene for premature ovarian failure (POF).