---
Product Details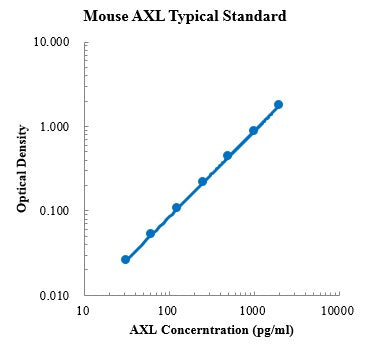 Brand
MultiSciences
CatNum
70-EK2249
Product Name
Mouse AXL ELISA Kit
Customs Name
Mouse AXL ELISA Kit
Application
ELISA
Reactivity
Mouse
Assay Type
Sandwich ELISA
Suitable Sample Type
serum, plasma, cell culture supernates
Format
96-well strip plate
Storage
4℃ (unopened) standard stored at -20℃, others stored at 4℃ (opened)
Shipping Condition
4℃
Sample Volume
20 μl (prediluted)
Sensitivity
1.63 pg/ml
Standard Curve Range
31.25 - 2000 pg/ml
Spike Recovery Range
88 % - 107 %
Mean Spike Recovery
0.99
CV of Intra plate
4.0 % - 6.1 %
CV of Inter plate
5.5 % - 7.6 %
Components
96-well polystyrene microplate coated with a monoclonal antibody against TNF-α
Mouse TNF-α Standard, lyophilized
TNF-α Detect Antibody
Standard Diluent
Streptavidin-HRP
Assay Buffer (10×)
Substrate (TMB)
Stop Solution
washing Buffer (20×)
Plate Covers
Describtion
This assay employs the quantitative sandwich enzyme immunoassay technique for the quantitative detection of mouse AXL. The Mouse AXL ELISA is for research use only. Not for diagnostic or therapeutic procedures.
AXL receptor tyrosine kinase, together with Tyro3 and Mer, constitute the TAM family of receptor tyrosine kinases. In the nervous system, AXL and its ligand Growth-arrest-specific protein 6 (Gas6) are expressed on multiple cell types. AXL functions in dampening the immune response, regulating cytokine secretion, clearing apoptotic cells and debris, and maintaining cell survival. AXL is upregulated in various disease states, such as in the cuprizone toxicity-induced model of demyelination and in multiple sclerosis lesions, suggesting that it plays a role in disease pathogenesis. AXL expression correlates with poor prognosis in several cancers. It mediates multiple oncogenic phenotypes and activation of these RTKs constitutes a mechanism of chemoresistance in a variety of solid tumors. In addition, AXL contributes to cell survival, migration, invasion, metastasis and chemosensitivity justify further investigation of AXL as novel therapeutic targets in cancer. The soluble AXL receptor as a therapeutic candidate agent for treatment of metastatic ovarian cancer. GAS6/AXL targeting as an effective strategy for inhibition of metastatic tumor progression in vivo.