---
Product Details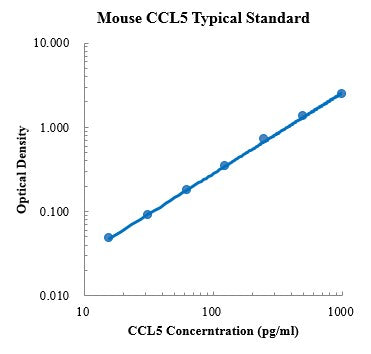 Brand
MultiSciences
CatNum
70-EK2129
Product Name
Mouse CCL5/RANTS Kit
Customs Name
Mouse CCL5/RANTS Kit
Application
ELISA
Reactivity
Mouse
Assay Type
Sandwich ELISA
Suitable Sample Type
serum, plasma, cell culture supernates
Format
96-well strip plate
Storage
4℃ (unopened) standard stored at -20℃, others stored at 4℃ (opened)
Shipping Condition
4℃
Sample Volume
20 μl
Sensitivity
0.12 pg/ml
Standard Curve Range
15.63 - 1000 pg/ml
Spike Recovery Range
80 % - 113 %
Mean Spike Recovery
0.96
CV of Intra plate
2.6 % - 3.9 %
CV of Inter plate
3.0 % - 5.8 %
Components
96-well polystyrene microplate coated with a monoclonal antibody against RANTES
Mouse RANTES Standard, lyophilized
RANTES Detect Antibody
Standard Diluent
Streptavidin-HRP
Assay Buffer (10×)
Substrate (TMB)
Stop Solution
Washing Buffer (20×)
Plate Covers
Describtion
This assay employs the quantitative sandwich enzyme immunoassay technique for the quantitative detection of mouse RANTES. The Mouse CCL5/RANTES ELISA is for research use only. Not for diagnostic or therapeutic procedures.
Chemokine (C-C motif) ligand 5 (CCL5) also known as RANTES, is a chemotactic cytokine. It is chemotactic for T cells, eosinophils, and basophils, and plays an active role in recruiting leukocytes into inflammatory sites. With the help of particular cytokines (i.e., IL-2 and IFN-γ) that are released by T cells, CCL5 also induces the proliferation and activation of certain natural-killer (NK) cells to form CHAK (CC-Chemokine-activated killer) cells. It is also an HIV-suppressive factor released from CD8+ T cells. Recently, the RANTES protein has been engineered for in vivo
production by Lactobacillus bacteria, and this solution is being developed into a possible HIV entry-inhibiting topical microbicide.